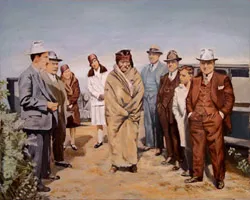 EXHIBIT: Duker Bower, contemporary paintings, sculpture and photography, and others. Mt. Philo Gallery, Inn at Charlotte. Through March 20.
ARTWORK"The Last Patagonian Indian" by Duker Bower
Mt. Philo Gallery is a multi-use venue operated by a multifaceted artist. Attached to the Inn at Charlotte on Route 7, the gallery hosts figure-drawing sessions on Wednesday nights, and innkeeper Duker Bower, who is also an artist, lets his studio spill into the gallery during off hours. Considering that his largest canvasses can measure 9 feet high, he needs all the space he can get.
Bower's MFA from Boston University is in sculpture, but he is a supreme technician in painting and photography as well. Technique without vision, of course, can result in sterile artworks, but that is not the case here. Bower's wall-mounted bronze portrait of Bob Dylan describes the musician as a Renaissance artist might have described Cosimo de Medici. The work attests to Bower's uniquely inspired amalgamation of old and new. His large frieze, "Lioness in an Oasis at Night," is a relief sculpture with a turquoise patina. It is easily as visionary as the painting "Peaceable Kingdom" by 19th-century folk artist Edward Hicks.
One of the two 6-by-9-foot oils on view is entitled "Noah's Ark Revisited." The monumental landscape is no mere bucolic idyll. A weary nomad rests in the lower right corner of the ceiling-tall vertical painting, a mystical landscape of deep, craggy valleys. Above the mountains churns a stormy, gold-and-gray sky, seemingly brewing ferocious weather of Biblical proportions.
"The Last Patagonian Indian" is based on a photograph Bower discovered while traveling in Argentina. He hitched a ride from a man in Comodoro Rivadavia who invited him to stay over, and Bower saw the photograph in his host's family album. As he couldn't borrow the picture, he immediately started drawing it. Considering Bower's exceptional skill as a draftsman, the resulting painting is no doubt identical to the original. In Bower's words, the scene ". . . tells the whole sad story. Argentineans gather 'round for a photo -- look at the Indian in the guanaco skin. The end of the story is, the Patagonian Indians are now extinct."
Bower's own photographs were taken closer to home. "South Starksboro Blues" would be a fairly familiar, run-down automobile scene, if it weren't for his super-saturated colors. The blue of the 1930s car seems weirdly electric. "State Park Road Home" looks like an aerial photo but was actually shot from the top of Mt. Philo. The scene surveys an emerald-green carpet of fields and clumps of trees below. The inn and gallery are specks on the landscape.
Bower doesn't show just his own work; right now he's co-exhibiting with six other artists, and plans to include more in coming months. South Burlington painter Earnie Brown is among those in the current show.
Though he isn't well known in Vermont's visual-arts scene, Brown has probably sold more pieces than any other artist in the state. Puzzle pieces, that is. He designs picture puzzles for a company based in New Hampshire. Brown's less commercially inspired landscape paintings at Mt. Philo Gallery include a series studying the 18th-century granite posts that enigmatically appear in overgrown pastures. These posts were once regularly used for fences and in gates. Each group of them in Brown's paintings look like segments from a New England Stonehenge. In "Post and Snow," three posts recede into a treeline of pines; powdery, blowing snow obscures the furthest post.
If Mt. Philo Gallery's future shows are as dynamic as this inaugural exhibition, it's destined to become one of Route 7's best roadside attractions.