Matthew Thorsen
Cast of Screwed
If Burlington is enjoying a boom in original theater, it's easy to pinpoint the catalyst. Since opening in 2010, Off Center for the Dramatic Arts has become that long-sought space where thespians can develop and present new — sometimes daring, experimental and just plain out-there — work without breaking the bank.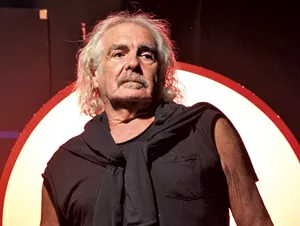 Matthew Thorsen
Stephen Goldberg
Playwright and Off Center cofounder Stephen Goldberg is more than a simple player in this trend. He has carried the mantle of edgy original theater in Burlington for more than two decades. Call him the godfather of grit — a peripatetic writer, occasional actor and musician who has staged scads of shows in nightclubs, storefronts and other ad hoc venues.
Goldberg's latest Off Center production is a revival of his play Screwed, which premiered in 1997 at the first Off Center: a quirky theater fashioned from an apartment above Ken's Pizza and Pub on Church Street. The fire department shut that space down after a few shows, because it wasn't up to code.
In its current run, Screwed crackles with manic energy interrupted by bursts of vitriol — staple Goldberg beats. The show, which he directs, stars Alex Dostie and Aaron Masi as Artie and Leo, respectively. The down-and-out chums share a squalid apartment and muddle through dreary lives marked by psychosis, guilt and profound loserdom. Leo is under house arrest following his release from a hospital for the criminally insane. Artie is trying to help Leo find peace of mind as the latter struggles with harrowing paranoid delusions.
The play opens with Artie bringing home a load of junk, including a metal object that appears to be a three-foot length of ventilation duct. He tries to make Leo see the item as "a transcendental sign" and a zapper for the imaginary evils flying around the room. When the "monolith" fails to calm Leo, Artie makes a more conventional proposal: that they call an escort service and hire a couple of "dates" for the night.
The dates are Lori and Tess, played respectively by Tracey Girdich, the only member of the four-person cast to have performed in the first Screwed, and Tobin Jordan.
The action that follows is as intense and violent as the setup promises, but it's punctuated with poignant moments. Under the playwright's knowing direction, the cast creates a self-contained universe in which four broken souls can at least try to connect across chasms of distrust and cynicism — and piles of dirty clothes. Goldberg veterans Masi and Girdich anchor the cast, but Dostie and Jordan step into the story with confidence and a keen sense of how this messed-up onstage world (dys)functions.
Screwed audiences unfamiliar with Goldberg's work may be surprised to find the play so loosely plotted. The pacing brings to mind the author's jazz trumpet playing; he fills the text with interesting, often humorous, often discordant passages that characters riff on until the possibilities are exhausted. The effect alternately works and doesn't. Sometimes the play feels sluggish in reaching key plot turns. To be fair, it's a dramatic form consistent with the play's themes — Goldberg's characters are wallowing, after all.
This Off Center run of Screwed follows the 2013 publication of five of Goldberg's plays by Burlington's Fomite Press. Marc Estrin, a novelist and Fomite's editor, says he approached Goldberg with a view to publishing his work in recognition of the playwright as "a force" in local theater.
"It was really surprising that, with the immense production that he's had, nothing has been published," Estrin says. "So that was another reason I wanted to grab this. He deserves it. He's a big guy. He's a big writer. He fills the space, and he fills it authentically."
The editorial collaboration, Estrin adds with a laugh, brought together two authors who could not be more different. "My literary centers are Dickens, Melville and Dostoevsky. In a certain way, this [book] had the feeling of something exotic for me, and an aspect of the world that I really, experientially, know nothing about and could only experience through writers like Steve," he says. "So it was kind of a privileged keyhole view for me to live in this world for a little while."
The plays in the book include Screwed (1997), Arnie Gets It Good (2000), Curbdivers of Redemption (1997), Kong Wash (2001) and Don and Tom (2003). The last of these received an Off Center production in October 2013, also starring Masi and Dostie as the title characters. While that play came across as even looser and less realized than Screwed, it showcased a strong acting pair who leveraged convincing onstage rapport and fluid physical interactions to wring humor and accessibility from challenging and, at times, repellent scenes.
"His scripts are difficult," Dostie says. "There's no outline with Goldberg. It's just happening. It lends itself to naturalism, but it's also tough on actors."
He adds that short rehearsal schedules raise the stakes for performers, creating a tension that, while uncomfortable, may also mesh well with the tone of Goldberg's plays. "There's a lot of edge and energy in his shows," Dostie says. "Everybody is on edge."
The Dostie/Masi matchup is significant in the broader context of Goldberg's oeuvre. Masi, having appeared in Kong Wash, belongs to the first half of Goldberg's production history. Dostie made his Goldberg debut in a revue of the playwright's Scenes, Monologues and Other Disturbances in 2010, making him next-generation Goldberg — and a source of new interpretive energy. Perhaps Girdich and Jordan will become another such dramatic duo.
Thanks to Fomite's print-on-demand collection, Goldberg fans need not wait for the next show for more tours through his tempestuous, tormented theatrical universe. And they still have several more chances to see Screwed in the flesh, so to speak, this week.