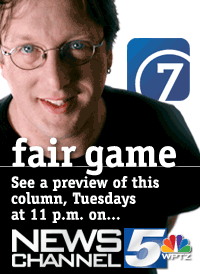 It's hard to predict which will be occupied first: the lobby of a Wall Street bank, the administrative offices of the University of Vermont or Fletcher Allen Health Care.
Employees at UVM and FAHC have grown increasingly angry in recent months over big pay packages doled out to top executives — either to make them stay, or to push them out the door — while low-level workers are being laid off or asked to accept pay freezes.
Last week, Fletcher Allen nurses held a rally to decry pay disparity at the state's largest hospital, questioning why the nonprofit paid its outgoing exec more than $1.9 million in salary and benefits while nurses and technicians got givebacks and wage freezes. The week before, UVM professors demonstrated when contract talks hit an impasse over salaries and retirement benefits.
Three weeks prior to that, at a rally of UVM maintenance workers, state Sen. Philip Baruth (D-Chittenden) — who is also a UVM English professor — threatened that faculty and students could take over the Waterman administrative building if union workers got screwed at the bargaining table. Maintenance workers, too, are currently at odds with administrative negotiators.
As the "Great Recession" or "Lesser Depression" persists, financial anxiety is growing faster than paychecks are shrinking.
That anxiety is playing out in New York City as thousands participate in the Occupy Wall Street protest.
Vermonters rallied Sunday in solidarity with the NYC demonstrations. Roughly 150 people marched through downtown Burlington and paused to "occupy" the street corner at St. Paul and College streets. They gathered right in front of Citizens Bank — a wholly owned subsidiary of the Royal Bank of Scotland, which received billions of dollars in bailout cash from U.S. taxpayers.
The crowd called for economic, labor and environmental justice. Oh, and an end to crony capitalism, Wall Street bailouts and the lopsided concentration of wealth.
Reports show that millionaires and billionaires in the top 1 percent of the U.S. economy control more wealth than the bottom 95 percent combined.
"It is time for those of us in the 99 percent to organize and fight back," Jonathan Leavitt, a community organizer with the Vermont Workers' Center, told the crowd. He then got them chanting — "We are the 99 percent! We are the 99 percent!"
According to the Washington D.C.-based Center on Budget and Policy Priorities, two-thirds of the nation's total income gains between 2002 and 2007 flowed to the top 1 percent of U.S. households. That top 1 percent now holds a larger share of income than at any time since 1928.
Meanwhile, the average household income gain for the bottom 90 percent, or households earning less than $110,000, was a whopping $1250, or 4 percent growth rate. During that same five-year period, the income gain for the top 1 percent, or households earning greater than $370,000, was more than $500,000 — a 62 percent growth rate!
If you find that troubling, hang on to your tin cup: The top one-hundredth of 1 percent of Americans — roughly 1500 households — saw their income rise by an average of $20 million, according to the CBPP study. That's a growth rate of more than 120 percent.
Silly me, I thought it was supposed to trickle down.
Take the Hill
While some Vermonters occupy Wall or St. Paul streets, a group of "campers" has launched what they hope will be a long-term occupation of land abutting Green Mountain Power's Kingdom Community Wind project — a 21-turbine industrial wind farm on the top of the Lowell Mountain ridgeline in the Northeast Kingdom.
The campers are stationed on land owned by Don and Shirley Nelson, who oppose construction of the turbines in what literally amounts to their backyard. The concrete pads for two turbines sit just 200 feet from the Nelsons' property line.
Last month, GMP began blasting on the other side of the mountain to build roads that will carry cranes and other equipment to the construction site.
By late fall or early winter, GMP's blasting crews will be on the Nelsons' side of the mountain. That's where the campers on Nelson property come in: GMP has to clear out a wide radius to ensure that no one is hit by flying debris. Doing so will inevitably displace the protesters, er, campers.
It's unclear if GMP will be able to blast away Lowell's ledges if the campers refuse to move.
The Nelsons sent a letter to GMP CEO Mary Powell last week asking her to promise to ensure the safety of the campers via "written confirmation that no fly-rock from your blasting will trespass or intrude on our property and that no one will be endangered."
GMP has not yet responded to the Nelsons, but it will, said spokeswoman Dotty Schnure. "As you know, 90 percent of Vermonters support wind even when they can see it," added Schnure. "The Public Service Board, after rigorous review and extensive testimony from intervenors including the Nelsons, determined that the project is in the public good. Nevertheless, there is a handful of people who disagree with wind development in Vermont, regardless of the benefits of having renewable generation."
As many as nine people a day have been camping out on the property, Nelson said. As the weather gets colder, the group is replacing its tents with more solid shelters.
Don Nelson wouldn't divulge any of the campers' names — yet. "They're taking animal names and bird names for now, but they aren't ready to go public. My name is 'Buzzard,'" Nelson told Fair Game.
Some people have offered to pull up GMP's boundary markers, or "pins," in an effort to delay the project's construction, but Nelson said he wants all actions to remain peaceful and legal.
"We don't want anyone up there who's going to pull pins or do any damage," said Nelson. "We've asked everyone to stay on our side of the property line and remain respectful."
Lights, Camera … Leahy!
Google isn't the only business trying to impress U.S. Sen. Patrick Leahy (D-VT), chairman of the Senate Judiciary Committee (with its "free" website consultations and special post-Irene maps and websites).
Next Thursday, Leahy will be recognized at a New York City gala by the Directors Guild of America for his "unflagging commitment to safeguarding the content created by DGA members and others in the creative and business communities against the ravages of digital theft and counterfeiting."
Those Hollywood folks sure can be dramatic, eh?
Hollywood has praised Leahy's PROTECT IP Act, which purports to crack down on "rogue" websites that are distributing licensed content such as movies, TV shows and other intellectual property. Leahy has reintroduced the act, which was shot down in committee during the last session of Congress.
To show their support, Time Warner Cable, the Motion Picture Association of America, Sony Pictures and Viacom have donated tens of thousands of dollars to Leahy's reelection campaigns.
Critics of the legislation say the bill gives the government too much power to limit freedom of speech online in the name of protecting private interests and could set a bad example for dictators in nondemocratic countries.
More than a dozen groups that promote free speech — including the American Library Association and Reporters Without Borders — are urging the Senate Judiciary Committee to tone down the proposed law.
In a May letter to Leahy, the coalition wrote that the bill "makes nearly every actor on the Internet potentially subject to enforcement orders under the bill, raising new policy questions regarding government interference with online activity and speech."
Minority Split
GOP leadership won't look the same in the Vermont House next session. Assistant Minority Leader Patti Komline (R-Dorset) said she's relinquishing her leadership role — but not her seat — before the legislature convenes in January.
Komline told Fair Game that she's taken a new job with the Stratton Foundation to head up flood recovery efforts in her region, which was hit hard by Tropical Storm Irene. Komline, who served five years as either minority leader or assistant minority leader, says that she and House Minority Leader Don Turner (R-Milton) have different ideas on how to manage the 48-member Republican caucus.
Turner told Fair Game he deserves some blame for Komline's resignation. He admits he hasn't consistently communicated well with GOP leaders or rank-and-file lawmakers since the last legislative session ended. That has led to some frustration within the caucus, which has shrunk by almost 30 seats over the past decade.
Without a GOP governor, Turner concedes the impact of the Republican minority has been greatly diminished. When Gov. Jim Douglas was in office, Republicans in the legislature could rely on commissioners and secretaries to support their positions. Now, with less than a third of all legislative seats and a Democratic administration occupying the fifth floor, the GOP finds itself pushed to the point of irrelevancy under the Golden Dome.
"We just don't have the numbers. We need more bodies," Turner bluntly observed. "The Democrats can pretty much do what they want at this point. If we're going to have any impact, we have to focus on bills when they are in committee. By the time they reach the floor, it's too late."