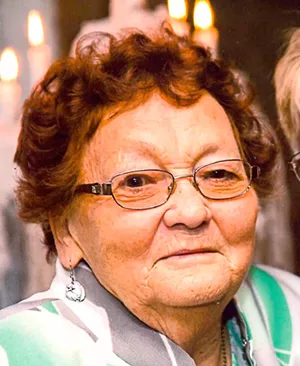 Yvonne Jean Moss, age 81, passed away unexpectedly, Tuesday evening, January 17, 2017, at the University of Vermont Medical Center. She was born in London, England, December 21, 1935, daughter of the late Arnold and Alice (Thacker) Rogers. She met Howard Kenneth Moss while he was serving in England with the U.S. Air Force. Howard brought her to the United States and they were married June 25, 1955. Mr. Moss predeceased her in 2006. Yvonne made pies for many years for Blouin's IGA on North Elm St., Guay's Market, and Bob's Meat Market. She also cared for the many children of her neighborhood. She enjoyed gardening, baking, knitting, snowmobiling, swimming, and will be fondly remembered for her many walks especially at the Hannaford Plaza.
Yvonne is survived by her three children, Bruce Moss and his wife Morleen, and Christopher Moss, and his wife Lisa all of St. Albans, and Tammy Demar and her husband Russell of Eden, NC, her grandchildren, Ethan, Gage, Jesse and Jacob Moss, Nikki and Jeni Demar, Morgan, Brittni, and Katie Moss, Cherie Warren, Steven Chaloux, and Aimee Bourbeau, eight great-grandchildren, a brother Ron Rogers of Reepham, England, and her daughter-in-law Cathy Moss of Milton. She is also survived by her canine companion Molly, and feline companions Sam and Izzy. She will also be missed by her closest friends, Peggy Crowley, Lilly Garland, and Kay Haas, and her special neighbors Veronica Dancereau and Becky Rock. Besides her parents and husband Howard, she was predeceased by two sons, Timothy Moss in 2002, and Gary Moss in 2005.
A Mass of Christian Burial will be celebrated Tuesday, January 24, 2017 at 10:00 AM in Holy Angels Roman Catholic Church. At Yvonne's request, there will be no calling hours. As an alternative to flowers, memorials may be made to the Franklin County Animal Rescue, 30 Sunset Meadows, St. Albans, VT 05478. Online condolences and memories may be shared with her family and friends at the Brady & Levesque website: www.bradyandlevesque.com. Arrangements are entrusted to the Brady & Levesque Funeral Home and Commemorative Services.