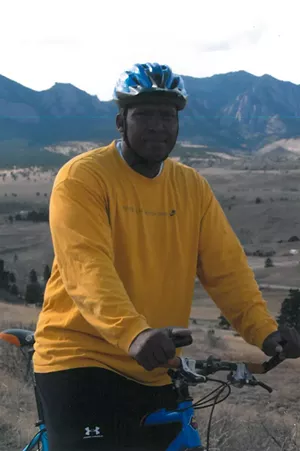 Courtesy Photo
William Christopher McNeil
William Christopher McNeil died unexpectedly from complications due to COVID-19 on August 21, 2020. He was born on November 11, 1969, to Dr. and Mrs. William E. McNeil. He was raised in Burlington, Vt., where he finished at Burlington High School in 1987. From there, he went to Bridgton Academy in Maine. Chris then moved to Montgomery, Ala., to study at Alabama State University, where he became a member of Alpha Phi Alpha fraternity.
He would go on to complete his BS and MS from Alabama State University, as well as become a Mason. Chris went on to work for the Montgomery Public School System, Church Hill Academy, Therapeutic Recreational Center and Montgomery Area Mental Health Authority, Inc.
Chris always considered himself a "rebel" from Vermont and cherished the cool weather and beautiful fall foliage.
Chris will be missed deeply by his children, Rohan, Arianna and Krista; his father and mother, Dr. William McNeil and Geraldine McNeil; one sister, Tiffani 'Shaye' Rodenbach (Tom); two nephews, Nicholas Saunders and Jason Rodenbach; one niece, Olivia Saunders; uncles Henry McNeil (Leslie) and R.V. Hawthorne; aunts Clora Mighty, Margritte Lindsey, Doris Richards and Jackie McNeil; and a host of many cousins and friends. A special thanks to dear friends Christopher McGhee and Rose.
Viewing at Ross-Clayton Funeral Home in Montgomery, Ala., will be Friday, August 28, from 1 to 8 p.m. Funeral service will be on Saturday, August 29, with only immediate family members attending.