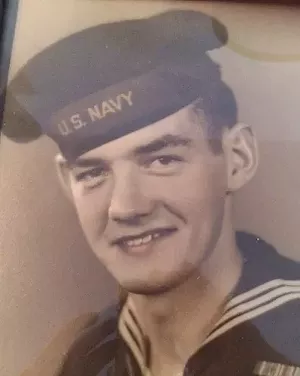 William A. Toof passed away peacefully August 24, 2017 at Birchwood Nursing Home. Born January 15, 1925 to Hardy and Frances Toof in St. Albans. Bill worked for Central Vermont Railway in St. Albans where he met his wife Sybil M. Geno and were married for fifty-five years. He served four years in the United States Navy during WWII and fought in the Invasion of Normandy. Following the Navy, Bill and Sybil moved to Essex and he was employed by IBM for twenty-nine years.
He was predeceased by his wife and survived his three brothers; John, Robert and Ronald and his sister Frieda Flanagan, all of St. Albans. He leaves behind three sons; Shawn and his children Hannah and Noah all of Grand Isle, Kevin and Tracee of Fairfax and Kyle and his wife Laurie and children Connor and Adrienne of Fletcher.
The family would like to thank the UVM Medical Center and Birchwood Nursing Home for their care and kindness. Upon Bill and Sybil's request, services will be private. Memorial contributions in Bill's name may be made to the Essex Rescue Ambulance Service, 1 Educational Drive, Essex Junction, VT 05452. Online condolences and memories may be shared with his family at the Brady & Levesque website: www.bradyandlevesque.com. Arrangements are entrusted to the Brady & Levesque Funeral Home and Commemorative Services.