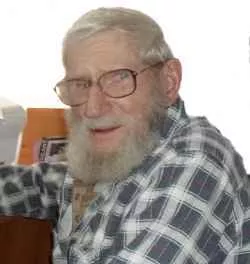 Willard D. Johnson, 82, passed away on February 19, 2016. He was born on January 8, 1934, in Montgomery, VT to Elijah and Katie (Eldred) Johnson.
Willard served his country in the United States Army and was a self-employed carpenter for most of his life. His hobbies included: hunting, fishing, drawing pictures and lottery tickets.
On August 9, 1958, he married Rose Marie A Baker. He is survived by his wife, and his children: Willard "Danny" Johnson and his wife, Elaine, of Orlinda Tennessee, Kathy Johnson Kitchell from Goodlettsville, Tennessee, David Johnson and his wife, Shannon, of Pleasant View, Tennessee and Jeff Johnson and his fiancé, Hallie, of Highgate Center, VT. He was "Grampa" to 13 grandchildren: Travis, his wife, Crissy; Amanda, her fiancé, Chad; Elysa, her husband, Kyle, Mason, James, Ashley, Kaitlyn, David (Bud), Jonas, Ian, Riley, Damian and Carter and great grandson, Payton. He is also survived by brother-in law, Robert (Bobby) Baker; wife Aline; sisters-in-law, Marilyn Baker, Muriel Johnson Dandurand and former daughters-in-law, Debbie, Meghan, and Dena, plus several nieces and nephews.
He is predeceased by his parents, his brother, Wallace (Pete), and his sisters, Geneva, Bertha, Milley, Anajean, and Shelvajean and brother-in-law, Roland Baker.
Friends may call from 5-9 P.M. on Friday, February 26, 2016, at the American Legion, 100 Parah Drive, St. Albans, Vermont. There will be a celebration of his life with a potluck dinner starting at 5 p.m. and then sharing of stories and memories will follow. Bring a dish and enjoy good food, good friends and family.
Interment will be at a later date. Should friends desire, contributions in his memory, in lieu of flowers, may be made to the American Heart Association, 434 Hurricane Lane, Williston, Vermont 05495.
Messages of condolence are welcome at www.healdfuneralhome.com.