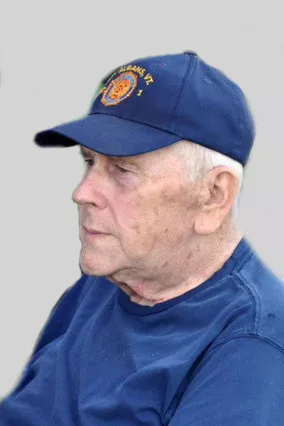 Wesley G. Menard, age 86 years, a lifelong resident of the Swanton community, died Thursday afternoon, December 3, 2015, in The University of Vermont Medical Center with loving family at his side.
Born in Swanton on, February 25, 1929, he was the son of the late David and Georgianna (Benjamin) Menard. Wesley attended St. Anne's Academy and on, November 8, 1952, married the love of his life, Marilyn Marie Welch who predeceased him on, May 20, 2012. He was a lifelong parishioner of Nativity of the Blessed Virgin Mary – St. Louis Parish as well as the Loyal Order of Moose, Lodge 1090 in St. Albans.
He faithfully served his country in the United States Army during the Korean Era and was an Honorary Life Member of the Veterans of Foreign Wars, Charles DaPrato Post 778 in Swanton and the American Legion, Green Mountain Post 1 of St. Albans.
Wesley will be remembered as a true "entrepreneur "and was involved in countless business endeavors throughout the Swanton community beginning with Monarch Bottling and with partners, Calvin LaBier and Bob McKenzie operating MLM Amusements. He was also an owner of The Shed a local dance hall and was an Arcticat snowmobile dealer. He was also associated for many years in sales with Rossetti Brothers later becoming Baker Brothers in Burlington.
Wesley will be remembered as an outstanding father, grandfather, great-grandfather, husband and friend. He was a kind, caring and loving man. Although serious when needed, he was excellent at lightening the mood with his funny stories and jokes. Every person who had the privilege of meeting Wesley is now a better person because of that. He was an incredibly giving man who would do anything for anybody. He strived to and succeeded in making everybody feel welcome in his life, surrounding himself with countless family and friends.
Wesley leaves his children, Michael Menard and his wife Evelyn, Sharon Menard, Kimberley Ledoux and husband Kraig and Susan Menard; grandchildren, Katie Menard and fiancé, Richard Dalton, Patrick Menard and partner, Josie, Ashley Ledoux and fiancé, Lee Dore, Emiley Ledoux, Michael Menard and Heather Davis; great grandchildren, Owen Davis-Tinker, Jace Patrick Menard, Luke Dalton and Jacy Bigsby Menard; a sister, Jeanne d'Arc Day; several nieces and nephews including two very special nephews, Jerry Menard and Larry Paxman as well as countless numbers of friends.
He was predeceased by his a sister, Rolande Paxman; brothers, Leonard and Maurice Menard and his canine companion, Checkers.
A Celebration of Wesley's life will be held Monday, December 7, 2015, at 3 p.m. at the American Legion, Green Mountain Post #1 Parah Drive, St. Albans. Wesley's family extends their 'sincerest thanks" to the legion membership for the use of their facilities.
A Private family service will be held at The Kidder Memorial Home. The Rite of Committal and Interment with military honors will follow in St. Mary's Roman Catholic Cemetery. Father Luke P. Austin will officiate.
Gifts in Wesley's memory may be made to the Swanton Community Food Shelf, 65 Canada St., Swanton or to the St. Jude's Children's Research Hospital, 262 Danny Thomas Place, Memphis, TN 38105-3670
To offer private online condolences please visit: www.kiddermemorialhome.com