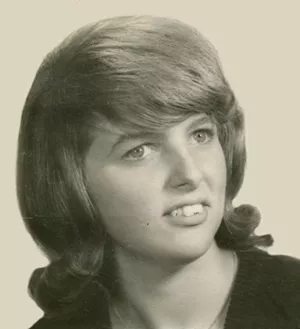 Wendy Lee Morgan, age 61 years, died suddenly early Sunday evening, November 1, 2015, at her Laroe St. residence.
Born in St. Albans on, April 1, 1954, she was the daughter of the late Lester H. and Alice Mary (Lapan) Root. She was a 1971 graduate of Missisquoi Valley Union High School and on, November 6, 1971, was married to James William Morgan who survives her.
Wendy was a lifelong resident of the Swanton community and loved spending time with her grandchildren.
Besides her husband Jim, she leaves two daughters, Pamela Yandow of Swanton and Tamara Kellogg and husband Michael of Freeport, ME; grandchildren, Brett, Harley, Gunnar and Tannar Yandow and Jackie and Michael Jr., Kellogg; brothers and sisters, Jeannette Choiniere (Richard), Nancy Leduc (Andre), Linda Dupre, Claude "Skip" Root (Colleen) all of Swanton, Bonnie Livingston (Ronald) of Washington State and Wayne Root (Peggy) and Peggy Maskell (Michael) all of Swanton as well as several brothers and sisters-in-law, nieces, nephews and cousins.
A Funeral Service will be held Thursday, November 5, 2015, at 11 a.m. from The Kidder Memorial Home, 89 Grand Ave., Swanton. The Reverend John H.D. Lucy will officiate. Interment will take place at the convenience of the family.
Gifts in Wendy's memory may be made to the American Diabetes Association 77 Hegeman Ave., Colchester 05446 or to the American Heart Association, Vermont Affiliate, 434 Hurricane Lane, Williston 05459.
To offer private online condolences please visit: www.kiddermemorialhome.com