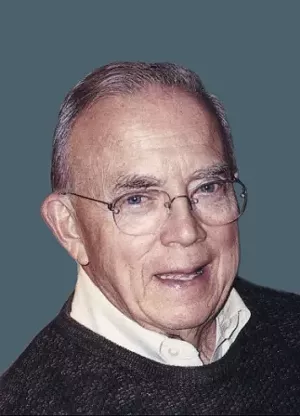 W. Donald Horrigan, M.D. Isle La Motte, VT, formerly of Princeton, NJ, passed away on July 24, 2014 in Burlington, VT. He was born on January 3, 1931 in Waterbury, CT. He was predeceased by his parents, Thomas H. and Kathryn S. Horrigan, and his brother, Thomas H. Horrigan, M.D.
Don graduated from Crosby High School in Waterbury, CT, Dartmouth College, cum laude, Dartmouth Medical School, and Cornell University Medical College where he received his M.D., and was a member of the Alpha Omega Alpha Honor Medical Society. After completing his internship at St. Luke's Hospital in New York City he was commissioned as a Captain in the U.S. Army and served as Chief, Dept. of Radiology, Fort Eustis, VA until his discharge in 1958, whereupon he received his residency training at Columbia Presbyterian Medical Center, NYC. In 1961 he entered private practice in Radiology at St. Peter's Medical Center in New Brunswick, NJ and was co-founder of the Radiology Group of New Brunswick. In 1969 he became the Director of Radiology at Middlesex General Hospital (now Robert Wood Johnson University Hospital). In 1984, he was named Acting Chairman of the Department of Radiology, UMDNJ-Rutgers Medical School and remained in this position until his retirement to Burlington and Isle La Motte in 1986. After seven years of retirement he resumed radiology practice in 1993 with the Associates in Radiology at Fletcher Allen Health Care until 1996 when he once again retired.
Don • Dad • Doc • Poppy, as he was known, was fortunate to retire to his beloved home, Pratt Haven, on Lake Champlain in Isle La Motte. His family was most important to him and he loved the family gatherings with all of his children and grandchildren. He enjoyed any kind of sports and the NY Rangers, Yankees, and Giants, and the VT Catamount Hockey teams have lost their biggest fan.
Don is survived by his wife of 6o years, Julie (Pratt) Horrigan, his four children; Suzanne Campbell and her husband Ronald; Jeffrey Horrigan and his wife, Jonna; Scott Horrigan and his wife, Heather; Benjamin Horrigan and his wife, Josephine; 8 grandchildren; Jessica, Jennifer, Janet, John, Sarah, Burkett, Molly, and William, his brother-in-law, Howard Schwenker, and sisters-in-law, Polly Schwenker, Margaret Long, Rosemary Horrigan, and many nieces and nephews.
A Funeral Service will be held Saturday August 2, 2014, at 10 a.m. from The Old Stone United Methodist Church, 67 Church Road, Isle La Motte. The Reverend Hyungyong Choi, pastor of the Champlain Islands United Methodist Parish will officiate. Interment with military honors will follow in the churches' memorial garden. There will be no public calling hours.
Memorial contributions in Don's memory may be made to: Champ (Champlain Adaptive Mounted Program) 57 East Shore Rd. So. Hero, VT 05486, or the Old Stone Church, P.O. Box 152, Isle La Motte, VT 05463.
Arrangements are under the direction of The Kidder Memorial Home, 89 Grand Avenue, Swanton 05488
To offer private online condolences please visit: www.kiddermemorialhome.com