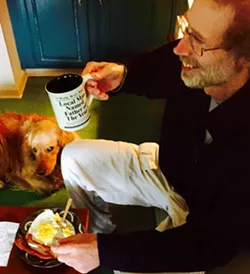 We have lost a good one. Tom Wilkins died peacefully on March 27th 2017. Calm in the center of many a storm, Tom's gentle, even keeled nature has been a beacon for many a frazzled soul. Empowered by his strength and courage, we will now carry the torch for him.
Tom was born on April 29, 1961 in Poughkeepsie, New York to Mary Jane and Wilton Wilkins. The youngest of five brothers, he quickly learned when to duck and run. Tom was strong, flexible and self-sufficient, all skills he passed on to his children.
Tom is survived by his loving wife of 32 years, Barbara. They worked together to raise their family, allowing each other freedom to pursue their own interests while keeping their true focus on their children. Tom and Barb lived a life full of love and mutual admiration.
Tom was most proud of his kids: Dana, Kendra, Devan, Sam and his nephew Henry. He was a constant in their lives. Through consistency and presence Tom instilled in them confidence to seek out new experiences and connections in the world. In the face of their father's illness, his strong, capable children matched his own inner strength with compassion and fortitude of their own.
Tom's brilliant mind solved many a quandary for his family and friends. He was our go-to-guy for any question, inane or significant, never making you feel stupid or afraid to ask for follow up because really, you still didn't have any idea what he was talking about. Tom's fine mind and keen intellect served IBM for all of his adult life. Tom was conscientious and loyal, a much valued colleague.
Always a seeker of adventure and master of wind and water, Tom could sail the mighty vessel "Follow Me" on and off the mooring in any condition the winds of Lake Champlain dished out.
A lover of fire great and small, Tom mastered the art of Dutch Oven cookery way before it was hip. The wafting aroma of his white chili and blueberry buckle would draw neighbors to the backyard fire ring on many a starry night. Pots were stirred and stories told.
Tom loved and appreciated his dogs, good music, mountains, full moons, and his diverse collection of friends. Throughout his illness, his house was filled with the comings and goings of these loved ones. Tom was held in the hearts of childhood Nyack buddies, Revolutionaries, fellow Bucknell alumna, workmates, neighbors and various local riff raff. We had your back, Tom, and you had ours. You took care of us in times of need. We are lucky to have known you. Let your soul and spirit fly -always forward, never straight.
Tom is survived by his wife and children, his parents, his brothers Bill, Tim, Chris and Jim, and by his well-trained lab, Lyric. Tom's legacy is one of love, loyalty and kindness. In his memory, please sit on your back deck or throw a big log on the fire, hand your friend a beer and keep the conversations flowing way past your bedtime.
In lieu of flowers, donations may be made in Tom's memory to Guiding Eyes for the Blind.