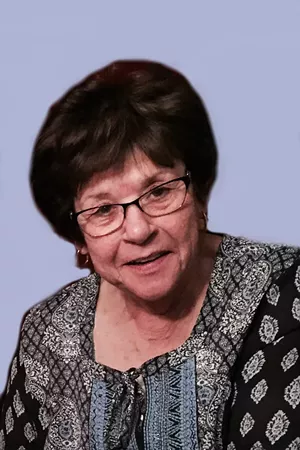 Suzanne Ginette Deso (Boucher) passed away in her home with family by her side from complications due to pulmonary hypertension on June 7, 2016 in Saint Albans, Vermont at the age of 66.
Suzanne was born on July 30, 1949 to Jean-Paul and Pauline Boucher of Swanton, Vermont the oldest of six children. She graduated from Saint Anne's Academy in 1967. Following high school, Suzanne worked at the Chittenden Trust, she took time to raise her family and later returned to work at Dickinson Dental. Suzanne and Richard together with their children owned and operated Lester's General Store and Deso Real Estate for 10 years. Following the sale of the business, she worked for the subcontractor at INS for several years until retirement.
Throughout her life, her greatest joys included time with her grandchildren, family, and friends. She loved her "Nana" days spent with grandchildren. Some of her fondest memories were spent vacationing with her husband and family, holidays, and time shared with her lifelong childhood friends Dianne, Ann-Marie, and Vickie. Suzanne shared a special bond with eldest grandson Brendan whom earned the title as her "fourth child."
Suzanne is survived by her husband, Richard Deso of St. Albans, VT; children, Eric Deso of St. Albans, VT, Stephanie and fiancé Robert Walker of Enosburg, VT, Christina and Joshua Boissoneault of St. Albans, VT; grandchildren Brendan Deso and special friend Julie-Anne Gagne of St. Albans, VT, Zachary and Emily Deso-Walker of Enosburg, Mary-Kate and Kelli Boissoneault of St. Albans, VT; siblings, Michael and Christine Boucher of Ea. Greenbush, NY, Denise and Ronald Bocash of Fairfield, VT, Marc and Rosemary Boucher of St. Albans, VT, Joel and Younousse Boucher of Memphis, Tenn. As well as many sister and brother in-laws, nieces and nephews and many close friends. She is preceded by her father Jean-Paul Boucher, mother Pauline Couture Boucher, and brother Paul Boucher.
Family and friends may call Saturday, June 11, 2016 from 11am to 1:30 pm at The Kidder Memorial Home, 89 Grand Avenue, Swanton. The Liturgy of Christian Burial will be celebrated at 2 p.m. from The Church of the Nativity of the Blessed Virgin Mary, 65 Canada Street, Swanton. Father Luke P. Austin will be the celebrant and homilist. A reception will follow.
Gifts in Suzanne's memory may be made to the Vermont Children's Hospital, 111 Colchester Ave., Burlington 05401.
To offer private online condolences please visit: www.kiddermemorialhome.com