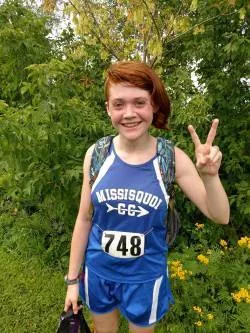 Swanton – Summer Elizabeth Dashno a longtime resident of this community passed away unexpectedly Wednesday, October 11th, 2017.
Born in St. Albans on March 16th, 2002, she was the daughter of Shawn and Jennifer (Wells) Dashno. Summer was 15 years old.
Summer was in her Sophomore year at Missisquoi Valley Union High School, where she was a member of the cross-country team and the theater program. She was also active with The Crossroads after school program and Johnson State College Upward Bound.
She is survived by her parents, Shawn and Jennifer, and brother, Nicodemus, all of Swanton; her grandparents, Ann and Mark Pitt, Shirley and John Davidson, Bill and Deborah Wells, Elton Jr.(Skip) and Paula; her aunts, Rebecca Wells, Amber Magee and Catherine Michelle Wells, as well as several cousins and many friends.
Relatives, friends and anyone wanting to honor her memory, are invited to attend calling hours on Thursday, October 19th, 2017, from 6:00 to 9:00 P.M. at the Heald Funeral Home, 87 South Main Street, St. Albans.
A funeral service will be held on Friday, October 20th, at 11:00 A.M. at St. Paul's United Methodist Church, 11 Church Street, St. Albans.
Summer's family would like contributions in her memory to go to the Vermont Suicide Prevention Center- Center for Health & Learning, 28 Vernon Street – Suite 319, Brattleboro, Vermont 05301 or The Johnson State Upward Bound Program, 337 College Hill, Johnson, Vermont 05656, 800-635-2356.
To send Summer's family a written expression of sympathy or share a memory, please go to her on-line guest book at www.healdfuneralhome.com.