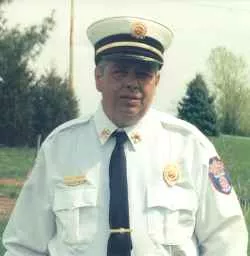 Steven L Lapierre, a lifelong resident of the community and longtime volunteer firefighter, passed away on Thursday, May 5, 2016, at the UVM Medical Center with his family and friends at his side. Steve was stricken while fighting a fire in the line of duty in Georgia, last week.
Born on February 20, 1958, in Burlington, he was the son of Doris LeClaire and the late Lucien P. Lapierre. Steve was 58 years old.
On June 1, 1980, in St. Albans, Steve married Beverly Hatfield, who predeceased him on March 17, 2009.
Steve was a 1976 graduate of Bellows Free Academy after which he began a career of 30+ years with the Saint Albans City Fire Department. He was a longtime volunteer with the Georgia Volunteer Fire Department, served as the Georgia Town Forest Fire Warden, and was a member of the Vermont State Firefighters Association. Steve also enjoyed his farm.
Survivors include his mother, Doris LeClaire of Georgia; his daughter, Wendy Hopkins and her husband, Mark, and their children, Vickie, Sam and David of Georgia and his son, Kevin Lapierre and his wife, Melanie, and their children, Gage, Caitlin, Madison, Emma and baby on the way of Fort Hood, Texas.
Steve is also survived by his sisters, Lynda Newton and her husband, Roger, and their children, Maureen and Josh, of Philadelphia, PA; Gale Morong and her husband, Ron, and Gale's children, Bethany, and Nick of Swanton; Jan Moreau and her children, Ema, Michelle, Amanda and Angela of Cambridge and Joanne Hamblett and her husband, Steve, and their children, Corey and Kristi of Georgia.
In addition to his wife, Bev, Steve was predeceased by his father, Lucien, on May 22, 2008.
Relatives and friends are invited to attend calling hours on Friday, May 13, 2016, from 4:00 to 7:00 PM at the Heald Funeral Home, 87 South Main Street, St. Albans.
Funeral services, with full Firefighter Line of Duty Death Honors, will be held on Saturday, May 14, 2016, at 1:00 PM at the Collins Perley Sports Complex, 890 Fairfax Road, St. Albans with the Reverend Maurice J. Roy officiating. Assisting will be Pastor Charles Kuthe, former Chaplin of the Georgia Volunteer Fire Department. Interment will follow at the family lot in Georgia Plain Cemetery.
Those planning an expression of sympathy are asked to consider the Georgia Fire and Rescue Association, 4134 Ethan Allen Highway, St. Albans, Vermont 05478.
Messages of condolences to Steve's family are welcome at www.healdfuneralhome.com