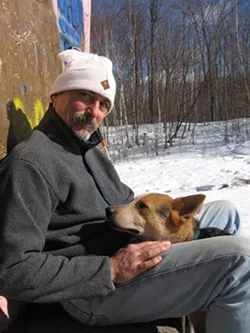 Steven Robert Butler, 68, of Northfield, Vermont passed away on Sunday, May 1, as a result of complications from CNS-Lymphoma.
Steven, born in Hartford, CT, divided most of his adult life between the two places he considered his true homes – Montana and Vermont. For his first two adult decades, Steve lived the outdoors life that brought him such joy – as a cowboy, carpenter, sled dog trainer for the Iditarod, and rugged adventurer in the open country of Montana. The storehouse of stories and experiences Steve accumulated during these times ensured he would always have anecdotes and parables full of wisdom and insight, delivered with his gentle sense of humor, for his family and friends over the years.
In the late 80s, Steve returned back east where he eventually met his life's love, Sheila Bannister, and settled in Northfield Vermont– although 'settled' is not a term that could be rightly applied to Steve. He was always on the go – hiking, kayaking, biking, skiing; and he was always helping others – disabled youth, troubled youth, the hungry, neighbors in need and his comrades in AA for the 32 years of his sobriety which he considered, rightfully, one of his greatest achievements. His caring and concern ranged from the largest – taking care of our planet and resources, to the smallest – providing a home and shelter for his beloved dogs, Rocky and Mister A.
When stricken with lymphoma at the age of 59, Steve fought with the courage, determination and positive spirit that marked his every pursuit. It is his fighting spirit, his thirst for life and love, his smile, his intelligence, his moral compass, and his kind and giving nature that we will all always carry in our hearts.
Steve, the son of Robert and Helen (Fuller) Butler, leaves behind his wife, Sheila and her family Margaret, Louise and Matthew, his sisters Barrie and Beverly, beloved nieces and nephews Lara, Brendan, Tim, Ryan, Julia, Davis, Sarah and their families, and his brother in spirit, Duncan.
There will be no public service, however in lieu of flowers, contributions can be made to Vermont Adaptive Ski and Sport or the Central Vermont Home Health and Hospice whose members shared so much of their love and kindness. Steve lived life large and beautifully and so we say "Elo Negie Soli" to our beloved Steve… sometime again.