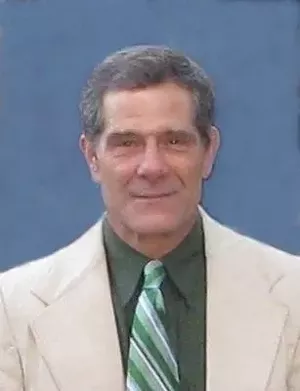 Stephen J. Cain, age 65, passed away of natural causes on Christmas Eve of 2017.
Steve was born on May 18, 1952, in Burlington, Vt., the second of seven children born to L. John Cain and the late Paulina P. Cain. Steve had a wonderful time growing up in Burlington. He loved summers at Starr Farm Beach and playing Little League baseball.
Steve attended Burlington High School, where he excelled academically. He also found that his true passion was for sports. Whether Steve was swimming laps at the BTC, chasing his friends around at flag football, skiing for BHS or playing high school football, Steve was "all in." He showed up for every game or practice with a big smile and gave it all he had. Steve was so friendly and popular that he was elected president of his senior class in 1970.
Steve loved sports because they embodied what he valued most: a common cause, team effort, optimism, commitment, friendly competition and being surrounded with friends. Steve was a relentless sports fan to the end of his life because of the values and good times he had playing sports in high school and college.
Steve went to the University of Vermont, where he majored in political science. Steve was always interested in politics and closely followed the state and national elections. Of course, Steve was immersed in intramural sports and played every game he could. Baseball, softball, flag football, tennis, soccer — you name it; he played it. He even decided it would be fun to play rugby barefoot! Steve graduated in 1974 and went looking for a job in politics.
Steve got lucky when he got a job as driver for Burlington mayor (and uncle) Frank Cain's campaign for United States congress. Jim Jeffords won the job, but this did not dim Steve's passion for politics. His next job was as an aide for the newly elected United States Sen. Pat Leahy. Steve was in his glory in Washington, D.C., as he watched the business of politics play out before his eyes. Steve worked in D.C. for three years before returning to Burlington.
When he returned to Burlington, Steve began showing signs of mental illness. Steve had to deal with mental health challenges for the last 40 years of his life. Our brother did not let this disease define him; in fact, he made the best of his life. Steve was always cheerful and friendly, and he also managed to hold down a job and live independently. These are remarkable achievements, and we are very proud of Steve.
Steve was always good at making friends. He had an affinity for people that most of us can only aspire to. People could see that he had no ulterior motives; he talked to them because he liked them and wanted to brighten their day. Steve always had a joke to tell; some were actually really funny, and if you missed one, he would be happy to repeat it. He related to so many people through discussion of politics, the weather and sports — he was very bright and could converse on just about any topic. Part of Steve's legacy is all the friends he left behind.
Steve was one of the most optimistic people anyone ever met. Steve always spoke so positively about how beautiful the day was or how well his sports teams were playing. Steve certainly had plenty to complain about, but he chose to approach life in a positive way.
Our family gives special thanks to Steve Polewacyk and the other fine folks at Vermont Pub & Brewery, where he enjoyed many years of employment. We also want to recognize and thank Shannon from Magnolia restaurant, Bill Kamela from Washington, D.C., and all of Steve's many friends from all walks of life.
Steve is survived by his father, L. John Cain, and his six brothers and sisters and their families: John Cain (Betsy Cain), Dr. Paul Cain (Kathryn Cain), Dan Cain (Joan Lyons), Larry Cain (Cara Cain), Connie Ramsey (Jack Ramsey) and Elizabeth Steinman (Paul Steinman). He is also survived by Louise and John Stimets, 12 nieces and nephews, and two great-nephews.
Steve is predeceased by our beloved mother, Paulina Powers Cain, who passed away in 1989.
Arrangements are by LaVigne Funeral Home and Cremation Service. Visiting hours will be from 4 to 7 p.m. on Friday, January 12, 2018. Funeral services will be at Christ the King Church at 11 a.m. on January 13, 2018. If you would like to share your condolences, please visit lavignefuneralhome.com.