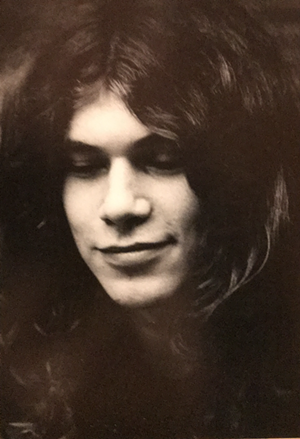 Stephen Rogers Albright died on Sunday morning, April 19, 2020, in Burlington.
He was born on July 13, 1949, in Hagerstown, Md., the son of Roger Lynch Albright and Jeanne Stewart Fraser Albright. Stephen spent his early years growing up in the Mendon and Rutland area, which provided him with many fond memories. His family later moved to Burlington, where he attended Burlington High School and the University of Vermont.
Stephen was a self-taught musician who learned to play guitar in his late teens. He was involved with local bands such as Sass, the Lights and Fake Cities, which played at school dances and local hot spots such as the Mill in Winooski and Hunt's and Nectar's in Burlington. He wrote many original pieces of music and became an excellent guitarist with a soulful touch. He was always glad to be a mentor to young up-and-coming guitarists. He was also creative in many other artistic areas, such as drawing, painting and leathercraft.
In his mid- to late twenties, Stephen developed both mental and physical disabilities that he suffered from throughout his adult life. He still pursued his music and other artistic pursuits when he could and lived most of his adult life in an apartment at 101 College Street in downtown Burlington. He loved to walk on the marketplace and was a friendly face to many folks on the street and in the stores he frequented. As his health failed, he stayed at home more and finally moved to Birchwood Terrace for the last years of his life.
Once he moved to Birchwood, his friends and family noticed a big change in Stephen's attitude and well-being. He finally seemed at peace and happy with his day-to-day life. He participated in many activities there and was back to his social, sweet self. He enjoyed talking to us on the phone about his experiences and the friends he was meeting. He laughed again and was able to spread his love and joy to everyone around him. Even during his quarantine due to contracting the coronavirus, he maintained a positive attitude and talked with us on the phone. We were able to Zoom with him a couple of times on his last day due to the thoughtful and caring PA at Birchwood who kept us apprised of his condition.
We are very grateful to all the health care professionals and workers for the care Stephen received at Birchwood, especially during this very difficult time. Please take comfort in knowing Stephen went to rest under the best possible care conditions, thanks to the attention of his family and friends, and the staffs of Birchwood Terrace, UVM Medical Center and Howard Mental Health.
After hearing the news of Stephen's passing, his cousin Barbara said, "Above all, I think, Stephen believed in love."
Stephen is survived by his brothers Andrew and David, his sister Jody, his cousins, and loving friends. He was predeceased by his parents and his sister Elizabeth (Libby) Fraser Albright.
As far back as we can remember, Stephen always left a phone message when he couldn't reach us and always signed off with, "Over and out for now. Love, your brother Stephen."
A celebration of his life will be held at a later date to be announced.