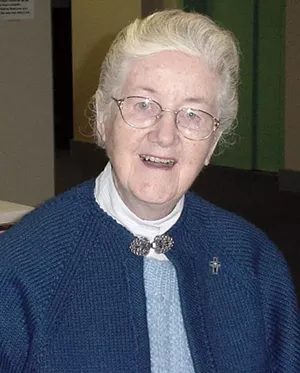 Sister Rose Rowan, RSM, (Sr. M. Edmond)
Sister Rose Rowan, RSM, (Sr. M. Edmond) 98, of the Sisters of Mercy Northeast Community, died at Mt. St. Mary's Convent in Burlington on, April 2, 2016 in her 73rd year of Religious Life
Sr. Rose was born in New York, New York on January 22, 1918, the daughter of Mary (McCormick) and Edmond Rowan. She was educated at St. Brendan's School in Bronx, NY and Mt. St. Mary Elementary School Burlington and Mt St. Mary Academy. She is a graduate of Trinity College, Burlington with a Bachelor of Philosophy Degree, majoring in History; she also received an MA in History from St. Michael's College.
Before entering the Sisters of Mercy, she was a Contract Analyst for Western Electric Co. in New York City.
Sister Rose entered the Sisters of Mercy on February 18, 1943 and made her profession of vows on August 18, 1945.
Sister taught at Cathedral High School and Mt. St. Mary Academy in Burlington. She served as Department Chair of History and Political Science at Trinity College as well as Dean of Women. She was the inspiration for the founding for the PACE Program at Trinity (Program Adult Continuing Education). Her knowledge and expertise were shared on many Boards of Directors and Boards of Trustees. She was elected and served on the Burlington Public School Board. Sr. Rose was President of the Vermont Sisters' Senate and was Head Instructor for the Foreign Study League Program. Sr. Rose also served at St. Augustine Parish, Montpelier as Parish Minister and ministered as President of the Sisters of Mercy Vermont Regional Community for 8 years.
Sr. Rose had a "dry wit" and wonderful sense of humor and always enjoyed a community party and family reunions. She was certainly a woman generous with the gift of herself. Following her years in active ministry, Sr. Rose was faithful in corresponding with the alumni of Trinity College, those whom she served, family and many friends, and all who knew and loved her. She prayed the rosary each day and held all of us in thought and prayer.
She is survived by her nephews Peter and his wife Marykate Rowan, Richard Speer and his wife Maureen, Michael Rowan and his wife Maureen, nieces Ginny Ann Coppola and husband Gene and Patricia Bennison and husband Larry. She is also survived by many grand-nieces and nephews and cousins and by her sisters in religion, the Sisters of Mercy. She was predeceased by her parents, Mary (McCormick) and Edmond Rowan, her sisters Virginia Rowan Diestal, Elizabeth V. Rowan, Gertrude Rowan Spear and her brothers John Rowan, Edmond Rowan, Joseph Rowan and Francis Rowan.
A Mass of Christian Burial will be celebrated on Thursday, April 7, 2016 at 11:00 am in Mt. St. Mary Chapel. Visiting hours will be 6:00 pm-8:00 pm with a prayer service at 7:00 pm on Wednesday, April 6, 2016 at Mt. St. Mary's. In lieu of flowers, contributions may be made to the Sisters of Mercy in support of their ministerial works, in care of the Local Coordinator, Administrative Office, 100 Mansfield Avenue, Burlington, VT 05401. Arrangements are in the care of the Ready Funeral Home South Chapel, 261 Shelburne Road, Burlington.