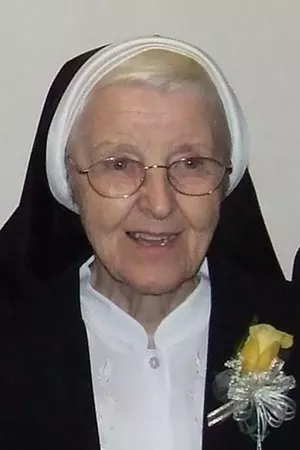 Sister Elizabeth O'Neil, RSM, (Sr. M. Cabrini)
Sister Elizabeth O'Neil, RSM, (Sr. M. Cabrini) 87, of the Sisters of Mercy Northeast Community, died at Mt. St. Mary's Convent in Burlington on, February 6, 2016 in the 68 year of her religious life.
Sr. Elizabeth was born in Colchester, VT, April 14, 1928, the daughter of Laura (Bressor) and Thomas O'Neil. She attended Richmond Elementary school and Richmond High School, VT. She also attended Trinity College, receiving a BA in History. She later attended St. Michael's College where she received a M.Ed. in History
Sister entered the Sisters of Mercy on August 15, 1947 and professed her vows April 20, 1950. She taught in Cathedral Grammar School in Burlington, St. Monica's Barre, St. Michael's, Montpelier and St. Mary's in Middlebury. Sister also served as Principal of St. Monica's School in Barre and taught history at Rice Memorial High School.
By her careful instruction and example at the elementary and high school level, as teacher and administrator, Sr. Elizabeth O'Neil provided education and opportunity to so many and prepared the men and women of several generations to become productive and responsible members of the church and society.
Through teaching and advising, Sr. Elizabeth, as teacher and principal, preached the gospel message to colleagues, parents and students, not only in word but also by example. When Sr. Elizabeth retired from teaching, she ministered to the Sisters of Mercy in the senior wing and kept in prayer, her family, friends, Sisters of Mercy and all those to whom she ministered.
She is survived by twin sister, Ann Mobbs, sister-in-law, Mary O'Neil and many nieces and nephews and also by her sisters in religion, the Sisters of Mercy. She was predeceased by her parents, Laura (Bressor) and Thomas O'Neil, her sisters, Virginia, Esther, Mary and brothers, James, Thomas, Frances and Lester.
Mass of Christian Burial will be celebrated on February 10, 2016 at11:15 am in Mt. St. Mary Chapel. Visiting hours will be 6:00 pm-8:00 pm with a prayer service at 7:00 pm on February 9, 2016 at Mt. St. Mary's. In lieu of flowers, contributions may be made to the Sisters of Mercy in support of their ministerial works, in care of the Local Coordinator, Administrative Office, 100 Mansfield Avenue, Burlington, VT 05401. Arrangements are in the care of the Ready Funeral Home South Chapel, 261 Shelburne Road, Burlington.