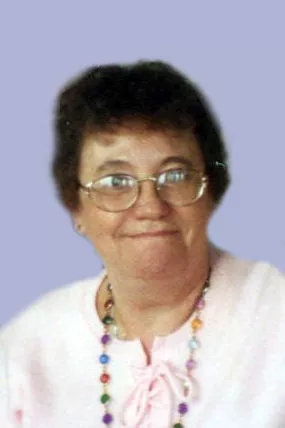 Shirley Catherine (Benway) Greenia
Shirley Catherine (Benway) Greenia, age 76, passed away Saturday Evening July 1, 2017 at Our Lady of The Meadows in Richford VT with her family by her side. Born on February 12, 1941 in Clarenceville, Quebec. The daughter of the late Charles Abel Benway & Florence Catherine Shedrick. She married the love of her life Louis W Greenia Jr on August 20, 1960 and then moved to Highgate and started her family. A devoted Wife, Mother and Grandmother who loved spending time with her family, Shirley will always be remembered for her love of playing bingo, gardening, lawn saleing with her sister Florence, playing cards and watching her favorite TV shows.
She is survived by her husband Louis W Greenia Jr of 56 years and 5 Children.
Cindy (David) Lumbra of Fairfax, Matthew (Dee) Greenia of Franklin, Louis (Tammy) Greenia, Bonnie (Ronald) Messier of Highgate & Sherry Greenia of St Albans. Her 13 Grandchildren, Katherine, Dallas, Dylan, David II and Kayleigh Lumbra of Fairfax, Joshua & Paige Greenia Franklin, Leo (Crystal) Messier Highgate, Bobbie-Jo Dion, Billie-Jo Rocque, Patrick Plattner, Justin & Nathan Robtoy. Her Brother's & Sister's Mabel (Leo) Dion, Alberta (Omer) Dion, Marty and Steven Benway all of Quebec, Joanne (Robert) Boyd of Prince Edward Island, Betty Benway, Charles (Naomi) Benoit, Mark (Barb) Benway, Albert (Maggie) Benway all from Ontario, Brother-in-Law's Mark Greenia Sr & Harold Greenia, Sister-in-Law Doris Cotnoir all of Swanton, Many niece's & nephew's in Vermont & Canada.
She was predeceased her parents Charles Benway & Florence Shedrick, Her Infant son Rocky Allen at the age of 4 months in 1962. 3 Sister's, Florence Tedford Greenia, Mary Benoit and Melody Benway. Her Father & Mother-in-Law Louis W Sr. & Florence (Minkler) Greenia , 4 Brother-in-Law Douglass, Leon & Merrill Greenia & Arthur Cotnoir and 3 Sister-in-Law's Beverley Delisle, Margaret Bockus & Joanne Mitchell.
There will be No Calling hours or Services. A Memory Luncheon will be held in Shirley's Memory at her home that she shared with her husband Louis on Saturday July 22 at 1 pm 726 Lamkin Street, Highgate Center, VT 05459.
Memorial donations may be made to Franklin County Home Health/Hospice 3 Home Health Circle St. Albans VT 05478 or the Vermont Alzheimer's/Dementia Association 300 Cornerstone Drive, Williston VT 05495.
The Family would like to Thank You to everyone from Franklin County Home Health/Hospice & Our Lady of The Meadows for the Care & Love they all showed Shirley.
Funeral Arrangements are the direction of The Kidder Memorial Home, 89 grand Ave., Swanton, VT. To offer private online condolences please visit: www.kiddermemorialhome.com