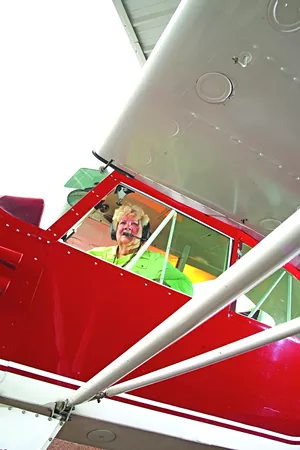 Matthew Thorsen
Shirley Chevalier
Shirley was born on February 27, 1942, to Leroy and Josephine Guyette in Berlin, Vt. The Guyette family moved to Amsden, Vt., where they purchased and operated the town general store for many years.
Shirley's family purchased a horse for her, which she named "Babe." Shirley joined the local 4H club and became very good at riding in Gymkhanas, with its timed speed events. She spent many hours riding her horse, and she could even stand on Babe's back at a gallop.
Shirley's schooling began in the one-room schoolhouse in Amsden, and she attended Springfield High School in Vermont.
Shirley began her professional career working for a rental car company at the Burlington airport and was subsequently hired by the City of Burlington as a public relations and tour guide at the airport. She gave many airport tours to local schoolchildren. It was during this period that she was asked to take photographs of airport events. She soon discovered she had a talent for photography, not realizing where it would lead later in life.
One day, a visiting pilot offered to take her on a flight to Portland, Maine, and she jumped at the chance. Unfortunately, the return flight did not go well on that particular day, and it left Shirley terrified of flying. In 1980, another visiting pilot found out about her fear of flying and offered to help her overcome it. She decided to give it one more try and, in small steps, slowly conquered her fear of flying. She then decided to take flying lessons, and in 1983 she successfully earned her pilot's license. By then, she had become enamored with the sense of freedom, control and beauty that flying in Vermont's Champlain Valley brought. Shirley went on to teach an "Overcoming Fear of Flight" course to others, and her success rate attracted the notice of others, bringing more people to her courses.
In 1984, Shirley purchased her own airplane, a 1959 Champion aircraft. It was older but dependable and became the replacement for her horse, Babe. Shirley spent many days and hours flying the Vermont skies.
In 2001, she brought in a partner in her beloved Champ, and it was taken to Rutland, Vt., for a full restoration, which took two and a half years. In June of 2004, her Champ returned to its new hanger home at Burlington airport, fully restored to "brand-new" condition.
Shirley soon discovered that her Champ's ability to fly low and slow made it a perfect platform for aerial photography. Shirley combined her natural talent for "seeing the picture" with her airplane and the new high-resolution digital cameras — and presto, FliRite Aviation was born.
During this time, Shirley and FliRite Aviation became well known and the subject of newspaper and magazine articles, as well as video segments on local television. Many of these can still be viewed on her website of flirite.net. Shirley had a chapter written about her in a book entitled Women of the Green Mountain State, about notable Vermont women.
Shirley's second love was her Honda Gold Wing motorcycle, which she spent many hours riding throughout Vermont and New England with her many friends.
Shirley received a diagnosis of lung cancer in the late summer of 2018. Following robotic lung surgery at Dartmouth-Hitchcock in Lebanon, N.H., on November 5, 2018, the diagnosis was changed to stage IV lung cancer. Her response was typical Shirley. She was not going to spend her remaining time in fruitless pursuit of some miraculous cure but instead would live every remaining day to the fullest, which she did. Shirley died September 22, 2020, at the McClure Miller Respite House in Colchester.
Shirley leaves behind her close friend and aviation business partner, Hobart C "Hobie" Tomlinson of Huntington, Vt.; her sister, Janice Cook, of Bedford, N.H.; her daughters, Tamara Heath and husband Randy of Milton, Vt., and Shari Mullen, of Burlington, Vt.; and stepsons, Brian Chevalier and wife Leslie of Denver, Colo., John Chevalier and wife Anne of St. Albans, Vt., and Daniel Chevalier of South Burlington, Vt.; as well as nine grandchildren and seven great-grandchildren.
Shirley's family wants to thank her many friends who provided moral support, food and conversations; Shirley's caregivers, Sandra, Melinda and Jeanne, from hospice; and Little Lou. We also want to thank the entire staff at the McClure Miller Respite House for their compassionate care; Shirley's daughters, Shari and Tammi, who spent many hours with Shirley in her final days; her friend of 45 years, Sandy (Sam) Rotella; and Anne Lavigne, one of Shirley's many flying buddies.
A memorial service for Shirley will be held in the Heritage West Side Maintenance Hangar located at 1130 Airport Dr., South Burlington, VT at 1 p.m. on Saturday, October 17. All attendees are requested to wear a face covering and maintain social distance. In lieu of flowers, Shirley requested that donations be made in her name to Chapter 613, Experimental Aircraft Association, 658 Airport Rd., Swanton, VT 05488.