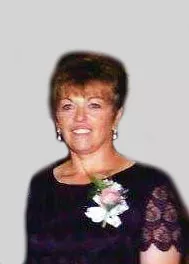 Shelley Ann Johnston, age 59 years, a lifelong area resident died Friday, December 4, 2015, in The University of Vermont Medical Center with loving family at her side.
Born in St. Johnsbury on, September 27, 1956, she was the daughter of the late Bruce Raymond and Norma (Norris) Gratton. She graduated from BFA-St. Albans and on, July 22, 1989, was married to Ronald A. Johnston who survives her.
Shelley loved gardening both vegetable and flowers and was the owner of R. J. Farm Stand on the Franklin Road in Highgate Center. She was also associated for a time with the Hudak Farms and Franklin County Home Health Agency. She was a devoted volunteer at the Highgate Elementary School and at Operation Happiness.
Shelley's family was her life, but her role as Nana brought her a new sense of joy and purpose.
In addition to her husband Ronald of 26 years, Shelley leaves three sons and daughters-in-law, Travis and Laurie of Milton, Chad and Jen of Swanton and Jason and Renee of Highgate; nine grandchildren, Hadi, Mikayla, Crissy, Cole, Dawson, Emma, Grace, Riley and Bailey; brothers and sisters, Sheri Bergeron, Terri Cook, Larry Raymond, Kelley Raymond, Allyn Denton, Lise Pearce, Gerard Gratton and Suzanne Conners and their spouses as well as many nieces, nephews, cousins and friends.
Besides her parents, Shelley was predeceased by an infant son Todd.
Since Shelley loved Christmas so much, the family asks that you please hang an ornament on your Christmas Tree in memory of her.
A Funeral Service will be held Saturday, December 12, 2015, at 1 p.m. The Kidder Memorial Home, 89 Grand Ave., Swanton. Father Luke P. Austin will officiate.
Friends may call at the funeral home on Saturday from 11a.m. to 1 p.m.
Gifts in Shelley's memory may be made to the Scleroderma Foundation – New England Foundation, 462 Boston St., Suite 1-1, Topsfield, MA 01983 or to the Ronald McDonald House, 16, S. Winooski Ave., Burlington, 05401.
To offer private online condolences please visit: www.kiddermemorialhome.com