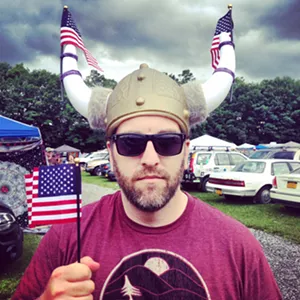 Courtesy Photo
Scot MacMillan
Scot MacMillan, 49, left this world to journey on to the next on October 6, 2021. He is and forever will be our beloved son, brother, uncle, nephew, cousin and friend. We are bereft without him.
He did all the usual stuff: He grew up in Groton, Mass., and graduated from Long Island University C.W. Post. He had a career in marketing.
More importantly, he was a man of generous love, compassion, hilarity and true kindness. He gathered people close and created a dynamic family of friends whom he united with his passion for music. DJ SMAC's love of music centered on Phish, all the funk and dance parties. He relished traveling and adventuring. Scot found fun absolutely everywhere.
He was the most hilarious uncle to his nephews and niece. He enjoyed entertaining them and did so with gusto.
He adored his parents. He tended lovingly, with a hint of humor, to his dad during Joe's illness and final days.
Scot loved to laugh and made people laugh until there were tears. His wit was unparalleled.
He leaves behind his mother, Mary; his sister Beth and her husband, Dan; his sister Julie and her husband, Mike; his nephews, Aidan and Makai; and his niece, Hollis. He also leaves his legacy of enduring and powerful friendship with so many, including the Flock, the LIU crew, the Cape Cod crew, the Vermont PBS crew and so many more. He felt your love in this last year. And, lastly, he leaves his cat, Monk.
A celebration of his fantastic life is planned for the spring of 2022.
In lieu of flowers, Scot asked that donations be made to the Burlington, Vt., food bank and Meals on Wheels.