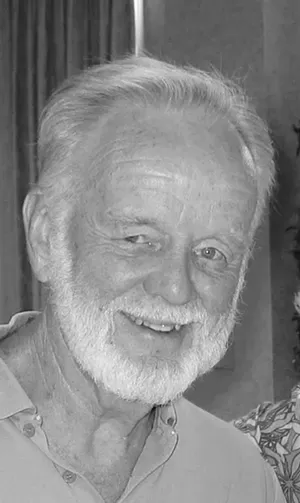 The Rev. Dr. Alexander Clinton Zabriskie, 89 — beloved husband, father, grandfather, pastor, friend and servant of God — died peacefully March 4, 2019, surrounded by family. With his wife, Margy, he enjoyed retirement in Burlington, Vt. He was an attentive listener; charming storyteller; sailor; bridge player; performer; painter; philanthropist and world traveler; lover of dogs, red wine and smoked salmon; avid reader; inveterate flirt; enthusiastic CSA member; and painfully honest tennis partner. Sandy sang with gusto and was often on key.
He was born in Alexandria, Va., to Mary Ethelynn Tyler and the Rev. Alexander C. Zabriskie and was raised at Virginia Theological Seminary in Alexandria. Last autumn, he and Margy returned to the region, moving to the Fairhaven community in Sykesville, Md.
Sandy graduated from Groton School in 1948 and Princeton University in 1952. He was active in the World Council of Churches Student Christian Association and worked with them in Salzburg and Trieste, helping to resettle refugees from different cultures after World War II. This experience profoundly influenced his values and his desire to serve the poor and dispossessed. Following a year at New College, University of Edinburgh, in Scotland, he attended Virginia Theological Seminary and was ordained an Episcopal priest in 1956, following in the steps of his father and two older brothers, the late George and Philip Zabriskie.
He immediately left for the Missionary Diocese of Alaska. In 1958, he married Marguerite (Margy) Morey Cook, a widow, and adopted her infant daughter, Katrina Morey Cook, in Fairbanks. For the next decade, he served as rector of St. Mary's in Anchorage. They had four more children: William Tyler, Paul Clinton, John Lane and Sally Gray Zabriskie. Sandy strived to integrate Alaskan Natives in the congregation, encouraging lay leadership that reflected the ethnic diversity of Alaska. He was active in the community, building ecumenical relationships with Native and African American congregations to support the civil rights movement, establishing the Creative Play Preschool and outreach projects serving people living in poverty.
Sandy was called in 1969 to Trinity Church in Bethlehem, Pa. During 15 years there, he introduced the Cursillo Movement, fellowship with Spanish Roman Catholics, new worship liturgies, ecumenical involvement and outreach to the poor, including a soup kitchen in the parish hall. Back east he became actively opposed to the Vietnam War and resettled Vietnamese ex-soldiers and families in Bethlehem. He started a peace ministry, and in 1985 he received a doctor of ministry degree from Princeton Theological Seminar, writing his thesis about nurturing congregational ministries to advocate for peace.
Together with Margy, Sandy was in his element bringing diverse communities together despite economic, cultural and educational differences. Sandy served as interim priest in two multiracial congregations in New Jersey before being called as Canon at St. John's Cathedral in San Juan, Puerto Rico. He retired to Burlington, Vt., in 1995.
The Zabriskie home on Lake Champlain provided lots of cross-country skiing, biking, tennis and beautiful scenery to paint. Sandy and Margy became involved with the growing refugee communities, especially South Sudanese young men and Somali families. In retirement, Sandy served in both Episcopal and Lutheran churches, often "pinch-hitting" for local clergy, and traveled to St. Barths each spring as a visiting priest to the Anglican congregation and as chaplain to the House of the Redeemer in New York City. He was active on various boards, including Kairos Prison Ministries, the Campaign to End Childhood Hunger and Prevent Child Abuse Vermont. He was a member of Rotary in San Juan and Burlington. Together, Sandy and Margy guided tours in Israel and Alaska, led work groups to Honduras for Episcopal Relief and Development, and took trips to Cuba, Haiti and Nicaragua with Witness for Peace. They traveled regularly, visiting their children and grandchildren, and in later years enjoyed river cruises in Europe.
From his childhood, Sandy loved his time at the family cottage in Hancock Point, Maine, sailing on Frenchman's Bay and playing tennis. He shared generously his home-smoked salmon, tangy guacamole and shortbread, and he relished adding secret ingredients to pancake breakfasts. He was drawn to wild places: camping in Alaska, canoeing rivers in Maine, snorkeling in the Caribbean, horseback riding in Montana.
Sandy lived a great life, and he knew it. But it was not without medical challenges, as he endured multiple cardiac procedures and related complications. He was forever grateful for the medical professionals who cared for him in facilities around the world. He learned to live every day as a gift, charming those he met with a warm smile, a twinkle in his eye, a kind word or a well-told tale.
Sandy loved and cherished Margy, his wife of 61 years, and was devoted to his family. In addition to Margy, Sandy is survived by his children: Katrina Tolan of Anchorage, Alaska; W. Tyler Zabriskie and wife Kristi of Minneapolis, Minn.; Paul Zabriskie and wife Beth Holtzman of Middlesex, Vt.; J. Lane Zabriskie and wife Barbara of Ellicott City, Md.; and Sally Zabriskie of Durango, Colo. His 12 grandchildren and one great-grandchild are Taylor and Brendan Tolan; Joy and Luke Zabriskie; Mara Collins and husband Dave Marzocchi; Ben Zabriskie and wife Krysta; Acadia Zabriskie; Laura, Tyler and Alex Zabriskie; Evatt and Curtis Salinger; and great-granddaughter Anne Zabriskie. He is also survived by his sister, Mary Forrest Zabriskie, of Putney, Vt.; sisters-in-law Thyrza Zabriskie and Beverley Zabriskie; and many nieces and nephews. His brothers, George and Philip, predeceased him.
A Celebration of Life will be held at the Episcopal Cathedral of St. Paul in Burlington, Vt., on June 15 at 10:30 a.m.