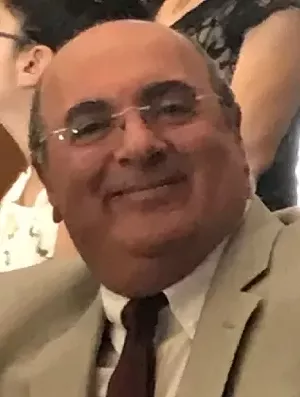 Another branch has fallen from our family tree. Sam's passing was a shock for which we could not prepare. Like a tree without its branches, our lives maintain a void without you and we find solace in the many great times we shared.
Memorial Mass Announcement: In honor of Samuel James Khouri, his Family will host a memorial mass at St. Michael's College Chapel, One Winooski Park, Colchester, VT on Wednesday November 22nd at 11:30am. We welcome Sam's family and friends to attend the service. This is being held to express our sincere gratitude to those that have shown many expressions of kindness and prayers to the family as well as the numerous masses held in Sam's memory. We look forward to seeing you at Sam's Memorial Mass on the Wednesday before Thanksgiving, as we celebrate his life.
Samuel, our Beloved Brother passed away suddenly on Saturday, December 10, 2016 in Avon, Ohio.
Son of the late Mounir and Anne Khouri, Sam has left behind a loving wife, Ghada Saab Khouri; beautiful daughter, Anna Tonine Khouri; his sister, Sadie Khouri-Roitman (Gary); brothers Dr. Rustom Khouri (Mary), Wafic Khouri (Saada), Mounir Khouri (Karen) and Christopher (deceased) (Diana); sisters-in-law Claude Zgheib (Charbel), Elham Makhlouf (Ephram), Carole Akiki (Gregory) and Mireille Saab; father- and mother-in-law, Joseph Saab and Bahia Akiki Saab; brother-in-law Fares Saab (Dr. Remi); several nieces and nephews to whom he was a second father and trusting confidante; many cousins, from Australia to Lebanon; and countless friends.
Sam's impact on his family and friends is immeasurable. He was a devoted son, husband, father, brother, uncle, and friend. His unwavering faith and persistent optimism was only matched by the deep love he felt for his wife Ghada and daughter Anna. Anna was truly the light of his life. He treasured the moments he spent at home with his family. A proud Vermont native, and avid sports fan - Sam supported & lamented the Cleveland Browns and reveled in the recent success of the Cavaliers and Indians. He loved the outdoors - Sam had a lush, fruitful garden and golfed as much as he could. Every Thanksgiving in Vermont started with Sam at Quarterback for a 40-year-long Turkey Bowl tradition in his hometown of Winooski, Vermont.
Becoming a father was a pivotal moment in Sam's life. He walked his daughter Anna to school at Holy Trinity every morning and valued time spent on the golf course with Anna. Sam was a friend to what must have been thousands. His charisma made him instantly relatable and his work ethic, easygoing nature and common sense commanded respect.
But above all, Sam's fun-loving, playful nature endeared him to everyone - anyone that knew Sam spoke of his generosity, infectious smile & laugh, and penchant to playfully rib & joke with friends. He was at home with a beer in the backyard, meat on the grill, and family at the table. Sam's family had a high Mass of Catholic Burial at St. Maron Church in Cleveland, Ohio on Wednesday, December 14, 2016 he was laid to rest at St. Joseph Cemetery in Avon, Ohio.