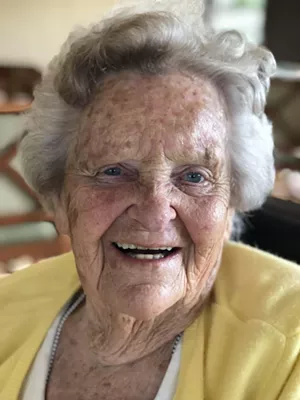 Loving wife, mother and mentor to many, Sallie Soule, 91, long of Shelburne, Vt., and lately of Fort Myers, Fla., died of congestive heart failure on June 11, 2019, at the Shell Point Retirement Community in Fort Myers after a life well lived.
Sallie was born in Detroit on May 13, 1928, and was raised in Grosse Pointe, Mich. She was the second of three daughters born to Hayward and Elizabeth Thompson. Born Sarah Goodwin Thompson, she adopted the name Sallie as an elementary school student, and it stayed with her throughout her life. She graduated from Milton Academy in Massachusetts in 1946 and went on to earn a BA in history from Smith College in 1950 and an MA from the University of Vermont in 1952.
Following her studies at UVM, she moved to New York City and worked for Macmillan Publishing. In 1957, she moved to Rochester, N.Y., where she met her future husband, Gardner Northup Soule. They were married in Charlotte, Vt., on July 26, 1958. For 10 years, she worked at the Brighton-Pittsford Post, a suburban weekly, in the Rochester area, writing feature articles and profiles. In 1968, the Soule family moved to Vermont to make their home in Shelburne. Together, they purchased Horsford's Nursery in Charlotte, which Sallie managed for almost a decade. In 1976, Sallie was asked to run for the Vermont legislature as a Democrat representing both Shelburne and Charlotte. In that tight election year, she didn't know she had won until 11 p.m., when the town clerk told her that her pile of ballots was higher! She was reelected in 1978 and, in 1980, she ran for the state Senate, winning her seat in the Senate with a campaign fund of just $2,000. Sallie earned a reputation as an honest politician who always listened to both sides and then stated exactly where she stood on an issue.
Believing in term limits, Sallie chose not to run for reelection in 1984. At that time, the Burlington Free Press headlined an editorial, "A Champion Bows Out," that acknowledged her tenure in Montpelier. It highlighted her work on the appropriations, energy, natural resources and administrative rules committees and as a legislative representative to the Vermont Judicial Nominating Board. Sallie then became the commissioner of employment and training at what is now called the Department of Labor in May of 1985 in the administration of Vermont's first woman governor, her dear friend Madeleine Kunin.
During her political career, Sallie was in business with four women friends who together, in 1978, founded Bygone Books, a used bookstore in Burlington, Vt. The business dissolved in 1998, but the devoted friendships were lasting.
The National Governor's Association recognized Sallie for distinguished service to state government. Other accolades continued throughout her life, the most recent coming two years ago, when, in 2017, she was the recipient of the first annual Madeleine Kunin Lifetime Achievement Award by Emerge Vermont.
Sallie adored her husband, her family, her community and the beautiful state of Vermont. While wintering in Florida, she was an active volunteer at the Sanibel Captiva Conservation Foundation for 20 years. She cared deeply about books, bridge, backgammon and the environment.
Sallie's loving husband died in 2006. She was predeceased by her parents and her elder sister, Katharine Thompson Serrell. She is survived by her daughter, Sarah Soule, of Shelburne, Vt.; her son, Trumbull Soule and his wife, Linda, of Ellicott City, Md.; her stepson, Gardner N. Soule Jr. and his wife, Sally, of Victor, N.Y.; and her stepdaughter, Nancy Soule Carroll, and her husband, Edward, of Brevard, N.C. She leaves six grandchildren and seven great-grandchildren. Her sister, Marion Thompson Adams of Exeter, N.H., also survives her, along with numerous nieces and nephews.
A celebration of life will be held at the Charlotte Congregational Church, Charlotte, Vt., at 3 p.m. on Sunday, July 7. Interment at the Thompson-Stone-Patrick Mausoleum at Lakeview Cemetery in Burlington will be private. She will be interred with five generations of her family. In lieu of flowers, donations in Sallie's honor can be sent to the Vermont Women's Fund, c/o Vermont Community Foundation, 3 Court Street, Middlebury, VT 05753, or Sanibel Congregational United Church of Christ, 2050 Periwinkle Way, Sanibel, FL 33957.
A longer and more detailed biography is available at gendronfuneralhome.com/obituaries, or simply google "Sallie Soule Vermont."