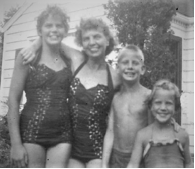 Ruth Hummel passed away on Tuesday, March 28, 2017 at Anthony Myrick's Community Care Home in Bristol attended by her daughter Sylvia and son Karl.
Ruth grew up in the Episcopal Rectory in Asbury Park, NJ a few blocks from the ocean. Her father, Randall Conklin was the kindly and beloved Minister and along with his musically talented wife Harriet, raised Ruth and her siblings, Harriet, Randall, and Walt in a house that was full of laughter and a very strong feeling of family.
From the Shore Ruth developed a lifelong love for swimming and the ocean. From her father she developed a lifelong respect for all people and an interest in all things.
She graduated at the top of her class at Asbury Park HS and went to Montclair Teachers College following her sister Harriet. In college and throughout their lives they were called by their nicknames, Tui and Tibi from the Latin declension Tu, Tui, Tibi, Te, Te. The group of 10 classmates that roomed together freshman year stayed together through graduation and continued to correspond and have their own reunions including spouses and kids for the next 40 plus years.
While in college Ruth had a blind date, a girl-shy guy from Princeton. Fritz (Frederick Hummel) became the love of her life and her partner in all things for the next 75 years. Married in 1940 living in Philadelphia where Fritz completed medical training and Ruth commuted to Trenton to teach Latin and French. In 1942, Fritz enlisted as a doctor and spent three years in Australia and New Guinea while Ruth brought up their daughter Suzanne, born as the doctor sailed west.
After the war, Fritz and Ruth settled in Belmar NJ, set up a medical practice and had Karl and Sylvia. In 1954 the family moved 10 miles south to a wonderful house on a beautiful lake about 20 minutes from the ocean and stayed there for the next 26 years.
During all of this Ruth worked in the office with Fritz, as receptionist, nurse and cleanup crew…before going home to get dinner ready (while the doctor mixed the martinis) and then help children with homework. She volunteered in libraries, sang with various groups, and entertained their friends at the lake. Her love of music and singing wove through her entire life and left an enduring appreciation of music on her children and grandchildren.
In 1980, Ruth and Fritz moved into Crestwood Village, a retirement community near the Jersey Shore. Ruth joined music, poetry and writing groups, making many friends. They continued an active life style making trips through the back roads, the museums, the book stores, and to visit. In 2013, Fritz passed away at 98 in Crestwood Manor where Ruth at 97 was in hospice. Ruth moved to Bristol, VT to live with her son Karl and daughter-in-law, Abby. Ruth thrived in Vermont. She became a major part of everything at 18 Garfield: our meals, our pets, our friends, our cocktail parties. At 99 she stayed out in the rain on Halloween to hand out the candy and to listen to every child that came to our house. She had such a good time; she said she felt like she was 80!
Ruth, our mom, loved and cared for family and friends. She could light up a room and make anyone feel better about the day and themselves. Some of us think she is the most appreciative person we ever met. She appreciated life and everyone in it! We will miss her.
Children: Suzanne Hummel Bell (Jeff); Karl (Abby); and Sylvia; granddaughters, Gabriella Santinelli, Kathleen Collins, Kari Hancock, Ruth Hummel, Helen Hummel; great-grandchildren, Ciara, Sinead, Eimear, and Sawyer.
In lieu of flowers, please send contributions to Addison County Home Health and Hospice or to Lawrence Memorial Library in Bristol, VT. There will be some informal gatherings this spring to smile and laugh and share. Let us know if you want to be invited!