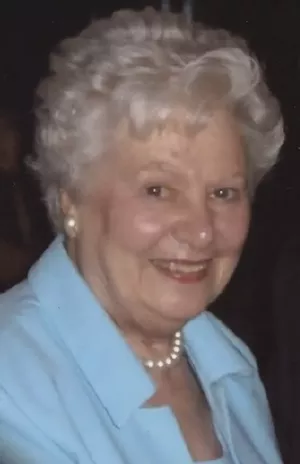 Ruth Burrell Farrell passed away comfortably after a long, healthy life.
She is survived by her daughters and their husbands, Patricia (Robert Roy), Diane (Tim Bell) and Susan (Russell Burt); and her dear son, Paul. She will be deeply missed by her grandchildren, Ryan and Ruth (Croxford), Jacqueline and Rebecca (Roy), and Chad and Michael; as well as many nieces, nephews and cousins across the county yet near to her heart. Ruth was predeceased by her beloved husband of 61 years, Roddy, and her son, Peter, who passed in 2019.
Born December 17, 1926, to Antoine and Irene (DuBois) Burrell in Burlington, Vt., she shared wonderful childhood memories with her older brother, Vernon. Ruth graduated from Burlington High School in 1944 and began a career that spanned more than 50 years.
She married Roderick J. Farrell in 1948; they raised five children together and enjoyed their roles as grandparents.
Ruth attributed her extraordinary memory to being an avid reader and a habit of completing a daily crossword puzzle in pen.
Even with decades of professional experience in banking, Ruth decided to go back to college at the age of 58. She found satisfaction in the challenge of being a student again.
Ruth joined her husband in retirement at age 60 with a commitment to give back to their community for as long as possible. Up until the end of her life, Ruth emphasized the importance of being useful and giving back to her community. She offered interpersonal skills connecting folks at Project Home. She welcomed people into the Food Shelf; she helped in the hospital offices; she checked on folks while delivering food for Meals on Wheels. Ruth and Roderick remained active for more than 20 years in service to others. During the winter months, they made time for travel. They played tennis, golf and cards with friends in Vermont and Florida. They drove and walked countless miles together and grew beautiful gardens in their backyard each summer. For the last decade without Roderick, Ruth found great friendships in residence at both the Pines and Shelburne Bay.
Ruth's smile and eyes sparkled whenever her grandchildren visited. Her ability to be fully present and extraordinarily patient was among the gifts she gave generously to all.
Visiting hours with the family will be Thursday, March 12, 5 to 7 p.m., at Ready Funeral Home South Chapel, 261 Shelburne Rd., Burlington. On Friday, March 13, at 10 a.m., there will be a Mass of Christian Burial and reception to celebrate Ruth's life at St. John Vianney Church, 160 Hinesburg Rd., South Burlington. A burial service will follow at 1 p.m., including a military ceremony for Roderick, at the Vermont Veterans Memorial Cemetery Chapel in Randolph, concluding with their interment together.
Donations in Ruth's memory may be made to St. Jude's Children's Hospital. To send online condolences to her family, please visit readyfuneral.com.