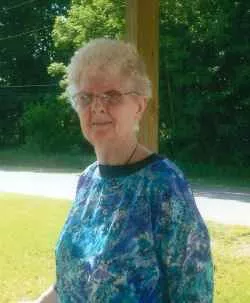 Ronell E. Rushford a longtime former resident of this community passed away early Sunday, July 31st, 2016, at the Copley Hospital in Morrisville with her loving family at her side.
Born on December 29th, 1923, in Batesburg, South Carolina, she was the daughter of the late Tillman Pierce and Corrie (Bedenbaugh) Matthews. Ronell was 92 years old.
Ronell retired from the University of Vermont as a supervisor in the House Keeping Department.
Survivors include her husband of 42 years, Jasper F. Rushford, Jr.; her son, William Richards of St. Albans; her step-children, Jasper F. Rushford, III of Phoenix, Arizona, Claire "Mickey" Kelley and husband, Edward, of Putnam, Connecticut, Mae Hawkins of Gilmanton, New Hampshire, Jacqueline Marchat of Florida and Juliet Dorval and husband, Glen, of Brookline, Connecticut, as well as her grandchildren, Heather Farrar, Kris Richards, Lisa Hayden, Heidi Hughes and Haley Adams. She is also survived by several grandchildren, great-grandchildren, great great-grandchildren and a special great great-grandchild on the way.
Ronell is also survived by her sister, Ruby Burnor of Georgia; brother, Lorenzo Matthews of South Carolina; sisters-in-law, Joyce Greene and husband, Roland, of Craftsbury, Jerrilyn Eldred and husband, Chuck, of St. Albans and many nieces and nephews.
In addition to her parents, she was predeceased by her son, Thomas Richards, great-grandson Logan Newell and her siblings, Lynwood, Hayward, Uneida, Alvin, Lessie, Naomi, Blease and Petis.
A special thanks to Joyce and Roland for the past 2 ½ years as Ronell's caregivers and for her being able to be at their home.
Relatives and friends are invited to attend calling hours on Thursday, August 4th, 2016, from 5:00 to 7:00 PM at the Heald Funeral Home, 87 South Main Street, St. Albans.
A funeral service will be held on Friday, August 5th, at 11:00 AM in the Heald Funeral Home with burial to follow in the family lot in Belvidere Center Cemetery.
Those planning an expression of sympathy are asked to consider the United Christian Society, 6653 VT Route 109, Belvidere Junction, Vermont 05442-9698. Messages of condolence to Ronell's family are welcome at www.healdfuneralhome.com.