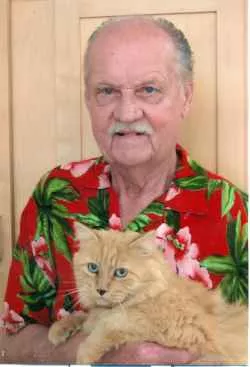 Ronald J. Petersen a longtime resident of Franklin Homestead, died Friday, May 20, 2016, at the St. Albans Healthcare & Rehabilitation Center.
Born in Staten Island, New York, on April 2, 1933, he was the son of the late John and Margaret (Petersen) Petersen. Ron was 83 years old.
Ron was educated in New York and served his country in the U.S. Army during the Korean War. He was a long time parishioner at Trinity Presbyterian Church in St. Albans. Ron loved to work with his hands and would often enjoy serving others by assisting them with projects. He also loved his Lord and Savior Jesus Christ and would describe how he came to faith in his later years. Ron was trusting in the grace of Christ for his eternal salvation and very much looking forward to being in his presence.
Ron is survived by his brother-in-law, Leo Katz, of Crystal River, FL, his nieces Melanie Wladessa of Staten Island, NY, and Jamie Adams of Crystal River, FL. Ron is also survived by his extended family at Trinity Presbyterian Church and the Franklin Homestead as well as his friends at Care Partners in St. Albans. He was predeceased by his sister Lorraine Katz.
A funeral service will be held at Trinity Presbyterian Church, 350 South Main Street, St. Albans, VT on Friday, May 27th at 11am. Assisting Ron's family is the Heald Funeral Home of St. Albans, where messages of condolence are welcome at www.healdfuneralhome.com.