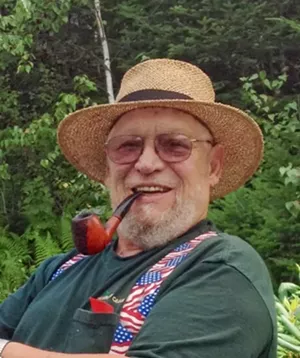 Roland Henry Nichols, 73, died peacefully and with dignity on his mountain in Montgomery. He left on August 7th to begin his next great adventure. Following a diagnosis of lung cancer he spent the last year knowing he had a short time left. And yet he laughed every single day.
Roland was the shortest son of Walter Nichols and Cecile Gregoire Nichols. He is survived by his brother Paul Nichols and his wife Joanne, his sister Florance "Flo" Mikan, his brother Albert Nichols and his wife Elaine, his sister Irene Grew and her husband Gary, many good looking nieces and nephews, and even better looking great nieces and great nephews.
Roland freely and enthusiastically embraced his Second Amendment Rights and was a proud card carrying Endowment member of the NRA. Roland served his country in the United States Air Force and spent 2 years in Lybia, Africa.
He was employed by IBM for 30 years and retired as a senior buyer at the age of 55. That gave him a good long time to enjoy the people in his life, hunting, fishing, and playing in the woods on his ATVs. Roland worked hard and played hard.
His short stature was inversely proportionate to his king sized positive attitude. He loved when people smiled.
As per his wishes, there will be no formal services........but feel free to raise a glass to the man, a life fully lived, and the dog who could drink enough. Online condolences may be sent to his family at the funeral home website: www.bradyandlevesque.com. Arrangements are entrusted to the Brady & Levesque Funeral Home and Commemorative Services.