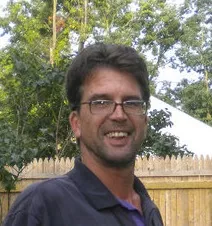 Roger Ernest Berard, 55, also known as Beige, Raji, Jammie Man, Smoothie, and Poppi, passed away on August 22, 2017 in his childhood home in Barton, Vt., surrounded by his loving family after a short yet fierce battle with pancreatic cancer. He is now reunited in the mysterious beyond with his wife, Loli, and first-born son, Jason.
Born on August 21, 1962, in Newport, Vt., to Gilles Berard and Jeannine Vezina Berard, Poppi always marched to the beat of his own drum. A musician extraordinaire with perfect pitch, Poppi was a drummer since the age of 13 when he joined his mother's country-rock band, the Shangri Las. His love for music led him through life, playing in several bands including St. Elmo's Kettle Band, Magnum, Fingertalk, Free Fall, Science Fixion and Zero Gravity, along with various jazz trios and quartets. He toured around the country and the world, eventually ending up in Burlington, Vt., playing regularly at Nectar's in the early 80's. It was in Burlington where Poppi met the love of his life, Loli, and they began their life and family together.
Poppi was a loyal employee of FedEx for 22 years, where his precision and efficiency were able to shine every day. In late December, the most stressful time of the year for many curriers, Poppi donned a red, striped hat with two jingle bells, delighting his customers and delivering joy wherever he walked.
An awesome father to his four children, Poppi's home was always open and welcoming. He was generous and playful, quick with a quip and first to correct, laid-back yet here, there and everywhere. His heart was large and accepting, never holding on to any hard feelings or bothering with grudges. He simply loved spending time with people.
Roger, though gone from this physical world, will never leave the hearts of his parents, Jeannine and Gilles, his brother Paul, his sister Lynne, and his Uncle Pete. He is forever loved and adored by his remaining children, Roger, Lucas, and Sophia; his son-in-law Luke; and his grandson Cosimo. His extended family and in-laws, his many friends near and dear, and most anyone who had the pleasure to have met him will miss his unique charm and incredible character.
In lieu of a service, Roger's family and friends celebrate his life in every drum solo on a table top, crack of the pool balls, swing of the golf club, ping-pong match, batch of popcorn, every harmony (sung just right), and every gathering with music, laughter and love.