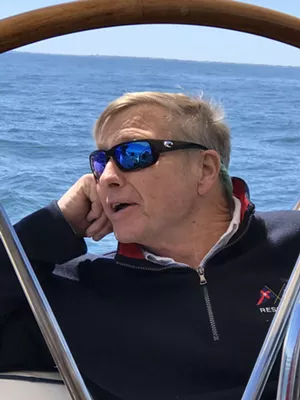 Courtesy
Robert Snyder
Robert Allyn Snyder, a thoughtful leader with great inner strength and determination, who was always ready for the next adventure, passed away on January 10, 2023. Born in Evanston, Ill., the eldest of six, Bob had a love of hockey that took him to the University of Vermont, where he played varsity hockey for four years and graduated in 1968. While in Burlington, he met the love of his life, Patricia. They were married in1968 and recently celebrated their 54th wedding anniversary in September 2022.
In 1976, Bob and Pat started Snyder Homes, a successful home building business in the Burlington area that received America's Best Homebuilder Award. While serving as president of Snyder Homes, Bob also served on the Regional Planning Commission and the board of directors at Champlain College.
Throughout the years, Bob enjoyed skiing, sailing and spending time on Martha's Vineyard. He was the commodore of the Edgartown Yacht Club and served the club as the house committee chair, cruise committee chair, trustee and secretary treasurer. Bob also served as the president and board member of the Vineyard Preservation Trust.
Bob loved sailing aboard
Resolute
. Whether cruising the Edgartown Outer Harbor, the Caribbean with friends or to Cuttyhunk with his grandkids, Bob was happiest on the water.
Although we grieve his absence, we're so very grateful for the many years we were graced with his love, laughter and passion for life. Bob is survived by his beloved wife, Pat; his daughter Kerolyne; son, Chris, and daughter-in-law, Elizabeth; and grandchildren, Tanner and Marley. He was preceded in death by Bob and Pat's daughter Sarah.
A celebration of Bob's life is planned for June 16 at 1 p.m. in Shelburne, Vt., at the All Souls Interfaith Gathering, and on June 25 at 1 p.m. in Martha's Vineyard at the Edgartown Yacht Club.
For those wishing to honor his legacy, please consider a donation in his name to the Vineyard Preservation Trust, P.O. Box 5277, Edgartown, MA, 02539.