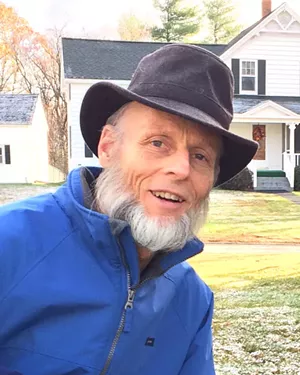 Embraced by family, Robert Lawrence Kort's curious and courageous spirit left his body in Groton, Mass., on November 10, 2017, after a two-year experience with advanced prostate cancer.
Born the son of Marion and Roy Kort in 1951, Robert grew up in Poughkeepsie, N.Y. He graduated from Syracuse University SUNY College as a forest engineer and received his master's from the University of Maryland as an agricultural engineer. Robert's work focused on improving the environment — including the Chesapeake Bay, Lake Champlain, and agricultural and urban lands — and energy conservation. He was employed for more than 27 years with the U.S. Department of Agriculture's Natural Resources Conservation Service in Vermont. Music was his passion, especially progressive rock and Celtic genres. He thrived as a disc jockey, first at Syracuse University's WAER, and he later became music director at Georgetown University's WGTB while in graduate school.
Robert met his wife, Kathleen (Bard), while at Syracuse University, and they began dating in 1974, when she lived in Delaware and he lived in Maryland. Married in 1978, they resided in Silver Spring and Columbia, Md., until 1990, when they moved to Huntington, Vt., with daughters Lori and Kelly. They loved attending concerts, and Bob traveled to many in Montréal, as well as to Pennsylvania's Nearfest. He had a unique knowledge and memory for the music he enjoyed.
Bob loved to talk and was enthusiastic about nutrition, earth energy and water dowsing, cycling, hiking, and Volvos. Family camping trips encouraged his daughters' love for nature. Bob connected with dowsers locally and internationally. He also led St. Andrew's Highland Dancers, supporting Kelly's dancing. He especially cherished his measured time with his grandsons as Papa.
Robert is survived by his mother, Marion; siblings Laura Murphy (Michael) and Kenneth Kort; wife, Kathleen; daughter Lori Saafi (Jamel); grandsons Parker, Elias and Noah Saafi; daughter Kelly Eng (Nicholas); nieces and nephews Heather, Lindsey, Kenneth, Megan, Jessica, Sarah and Benjamin; and Kathleen's sister Susan MacCarthy (Rob). He was predeceased by his father, Roy, and stillborn daughter, Erin.
Robert's life will be celebrated with a service at Richmond Congregational Church UCC in Richmond, Vt., on Saturday, November 18, at 11 a.m., with a reception to follow at the church. In lieu of flowers, donations may be made to greenamerica.org/tribute or Richmond Congregational Church UCC. Please remember Bob with a walk in the woods listening for owls.