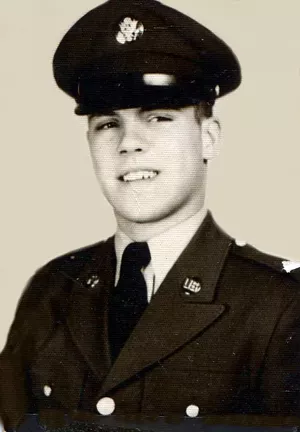 Robert Keith Greeno, age 71 years, died Monday afternoon, June 13, 2016, in The University of Vermont Medical Center with loving family at his side.
Born in St. Albans on, August 24, 1945, he was the son of the late Alfred and Ruth (Whiting) Greeno. He attended the former St. Mary's Parochial School and on, December 28 1963, he married the former Flora Santor who survives him.
For many years Robert worked in wholesale meat distribution. He later became a meat broker and up until his death was the owner and operator of B & F Enterprises.
He was a longtime parishioner of St. Amadeus Roman Catholic Church and a member of the Knights of Columbus.
He faithfully served his country in the Army National Guard of Connecticut and the Vermont Army Air Guard receiving his Honorable Discharge on September 7, 1965. He was a member of the American Legion, Creller Landon Post # 60 in Alburgh.
In addition to his wife Flora of Alburgh, Robert leaves four sons, Dennis and his wife Sally of Swanton, Rickey of Alburgh, Tim and wife Melissa of Alburgh and Albert and wife Jeannie also of Alburgh; grandchildren, Ryan Greeno, Alee Greeno, Heather Greeno and fiancé, Justin Feeley, James Greeno, Keenan St. Clair and fiancé, Libby Timmons,, Kyle and Felicia St. Clair, Jessica Pelkey and fiancé Ryan Smart and Justin Pelkey and fiancé Nicole Young; great grandchildren, Macy Greeno, Noah Greeno, Kylie Pelkey and Isabelle Pelkey; siblings, Gary and Diane Greeno of St. Albans, Michael and Brenda Greeno of Swanton, Billy Greeno and companion Trudy of St. Albans Bay and Anne and Tim Tatro of St. Albans. Robert also leaves his business partner and best friend, John McLear and his companion Joanne of South Carolina as well as several nieces, nephews, cousins and many friends.
Besides his parents Robert was predeceased by a grandson, Tyler Greeno; father and mother-in-law, Albert and Lottie Santor; a brother, Allen Greeno and a sister, Ruthie Ballard.
The Liturgy of Christian Burial will be celebrated Thursday, June 16, 2016, at 1 p.m. from St. Amadeus Roman Catholic Church, 9 North Main St. in Alburgh Village. Father Thomas D. Nadeau will be the celebrant and homilist. Military Honors will follow the liturgy.
Friends may call at The Kidder Memorial Home, 89 Grand Ave., Swanton on Thursday from 10 a.m. until 12 Noon.
Gifts in Robert's memory may be made in the form of Masses.
To offer private online condolences please visit: www.kiddermemorialhome.com