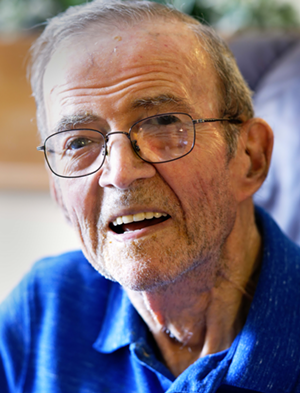 Robert (Bob) Ayer Hall passed away peacefully in his home in Shelburne, Vt., surrounded by his loving family, on January 30, 2023. Bob was 99 years old. He was born in Saint Johnsbury, Vt., on October 2, 1923, and had resided in Shelburne for 56 years before his passing. Bob was happily married to his beloved wife, Fran, for 68 years until she was taken by cancer in September 2014. He is survived by his four children, Steve Hall, Deb Hall, Stu Hall and wife Holly Hall, and Rob Hall and wife Susan Hall; eight grandchildren, Jeffrey Robert Hall and wife Katharine Braun-Levine, Meredith Hall Ritter and husband Matthew Wilson Ritter, Jenna Ross and partner Joe Leo, Dan Ross, Carrie Hersey and husband Lucas Hersey, Heather Hall, Kelsey Hall, and William Hall; and five great grandchildren, Joziah Robert Hall, Joelianny Sky Levine-Hall, Emily Cecilia Ritter, David Hersey and Melissa Hersey.
Bob grew up in Waterbury, Vt., and graduated from the University of Vermont with a BS in mechanical engineering. He was a U.S. Army veteran who served in the European theater during World War II as part of Battery B, 46th Field Artillery Battalion. He was awarded the European-African-Middle Eastern Service Medal with two Bronze Stars, along with a WWII Victory Medal, American Theater Ribbon and a Good Conduct Medal. He went on to work at General Electric in Schenectady, N.Y., and then in Burlington, Vt., for 31 years before retiring.
Bob was a family man and an avid hobbyist who had many interests and talents. He enjoyed hunting, fishing, boating and playing cribbage — and for many years was a ham radio enthusiast and an active member of several regional and international ham radio communities and networks, including during his time serving as president of the Burlington Amateur Radio Club in the late 60s. Bob also enjoyed listening to big band music and, in earlier days, dancing to it with Fran on Friday night outings with friends. As a young couple, they even danced on the deck of the steamboat Ticonderoga while it was active on Lake Champlain. Frank Sinatra and Doris Day were two of their favorite singers. In their later years, Bob and Fran purchased an electric organ and enjoyed taking lessons and playing for family and friends at home. Bob and Fran were frequent travelers who made two cross-country trips covering 48 states, traversing a southern route on their first cross-country trek and, a few years later, heading out via the northern U.S. states. They enjoyed a vacation in Hawaii and numerous summer vacations on the coast of Maine. In between these trips, there was a lovely flow of visiting or receiving family to celebrate special life events.

Bob was a talented and enthusiastic photographer, starting at the age of 10 when he got his first camera. He set up a darkroom at his family home in Saint Johnsbury and developed black-and-white prints. During high school, he became the photographer for the yearbook and sports teams. While serving in the U.S. Army overseas during World War II, Bob used any free time he had to take photographs. As an employee at GE, he continued using his skills as a photographer and ventured into video production, helping to create some of the company's earliest instructional videos for its employees. It goes without saying that his family has been well documented over the years with his photographs, and he has inspired many family members to follow his love for this great hobby. Before Bob's vision became compromised, he enjoyed painting from photographs that he had taken of important places in his life.
Family meant the world to Bob, and this included the family pets: Cats, dogs and even parakeets were all considered special members. He was a devoted son, brother, husband, father, uncle, grandfather and great-grandfather, always generous with his time, energy and love.

Bob was truly a "gentle" man, and his attitude in life was always "the glass is half full," which is probably one of the reasons he lived to 99. His wisdom helped him to live in the moment and have a grateful heart — a beautiful model for us all.

A celebration of life service will be held at 11 a.m. on Saturday, February 11, 2023, at All Saints Episcopal Church in South Burlington, Vt. It will be followed by a reception at the church. In lieu of flowers, please feel free to contribute to UVM Home Health & Hospice, 1110 Prim Rd., Colchester, VT 05446 (uvmhomehealth.org); Age Well: Meals on Wheels in Vermont, 875 Roosevelt Highway, Suite 210, Colchester, VT 05446 (agewellvt.org); or Humane Society of Chittenden County, 142 Kindness Ct., South Burlington, VT 05403 (hsccvt.org).