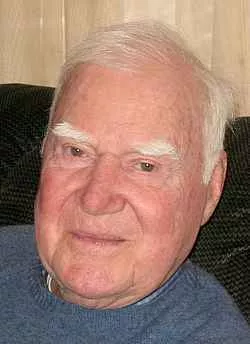 Robert Hadley Robert Hadley Corrigan died peacefully with his family by his side on March 12, 2016.
Bob was the son of Robert S. Corrigan and Wilhelmina H. Corrigan (nee McKillop) of St. Albans, Vt. and was born on September 2, 1927. He was 88 years old.
Bob was predeceased by his parents, his sister, Alice, his brother, Rodney, his granddaughter, Christi Corrigan, and nephew, Tim Hogan.
On September 1, 1951, Bob married the love of his life, Margaret Arkinson. They spent 64 wonderful years together.
Bob and Arkie had four children, Dr. Michael Corrigan and his wife, Janice; David Corrigan and his wife, Donna; Lisa (Corrigan) Pelkey and her husband, Brian, all of St. Albans and Daniel Corrigan and his wife, Suzanne, of Saline, Michigan.
Bob was known as granddad to his eleven grandchildren; Robbie, Jamie, Casey, Christi, Jessica, Jason, Joshua, Aidan, Meg, McKenna, and Connor. He was also getting ready to spoil the next generation, as he had five greatgrandchildren; Alex, Adam, Landon, Sadie and Paxton.
Bob graduated from Bellows Free Academy in St. Albans in June of 1945. He immediately enlisted in the U.S. Navy and was called to active duty on October 10, 1945. After his discharge he remained in the naval reserve for some time.
Bob attended The University of Vermont studying business administration.
Bob worked for the Central Vermont Railroad from 1949 until his retirement in 1989. His family loved sitting around the table listening to his many stories of railroad life.
Bob played football, basketball and baseball while at B.F.A. Sports were a big part of his life and there was nothing more he enjoyed than watching his children and grandchildren in their endeavors. His great grandchildren are starting their sports careers and he had that twinkle in his eye as he prepared to follow the next generation onto the field.
Bob enjoyed being outdoors, from just gardening and maple sugaring with his children and grandchildren to hunting with them.
In his younger days he played clarinet in the St. Albans Citizen Band and after he retired he spent many days at Champlain Country Club playing golf.
Bob died peacefully in his sleep with his family by his side. There were many tears shed for our loss, but also many smiles and laughs for what we had all had, a great and loving man.
A Mass of Christian Burial will be celebrated on Saturday, March 19, 2016, at 11:00 AM in St., Mary's Catholic Church, 45 Fairfield Street. The Reverend Maurice J. Roy will be the celebrant.
In lieu of flowers, memorials may be made to the Franklin County Animal Rescue, 30 Sunset Meadows, St. Albans, VT 05478 or Franklin County Home Health Agency, Hospice Program, 3 Home Health Circle, St. Albans, VT 05478.
Messages of condolence to the Corrigan family are welcome at www.healdfuneralhome.com.