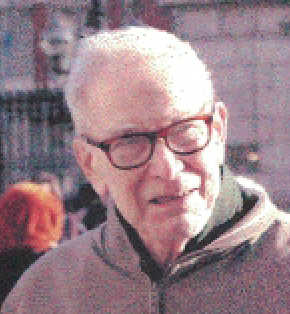 Robert Tappan Foley, 92, of Philadelphia, Pa., and North Hero, Vt., died at his home on January 16, 2023.
Robert Foley was born on March 20, 1930, in Winter Park, Fla., the son of Sherwood and Eleanor (Tappan) Foley. He grew up in a house next door to the Seminole Hotel on Lake Osceola in Winter Park, which his father owned. He attended Asheville School in Asheville, N.C., beginning in 1944 and graduated in 1948. Bob entered Haverford College that year and graduated Phi Beta Kappa in 1952. After college, he spent two years as a clerk in the U.S. Army, where he was stationed in Columbia, S.C. He then joined the Philadelphia firm of Towers, Perrin, Forster & Crosby as an actuary. He worked there until he retired in 1982.
His work as an actuary was the beginning of a lifelong interest in technology, computers and all things mechanical. It was while working in Philadelphia that he met his future wife, Priscilla Rose, and on October 13, 1979, they were married at King's Chapel in Boston. He was predeceased by Priscilla, who died in 2009.

From the very first year of his life, Bob spent summers at his family's multigenerational home on the shore of Lake Champlain in North Hero, Vt. There he developed close ties to aunts, uncles and cousins, who formed a small family community and lifelong relationships. Bob was at home on the water and knew well the character and history of Lake Champlain. As a young man, he would row out in the lake to take pictures of the steamboat Ticonderoga as it sailed past the family camp.

He had an enduring love of travel that developed at an early age from journeys with his parents and sister Anne. Bob's explorations included extensive travel in Europe, Australia and China, as well as multiple transatlantic crossings on the Queen Elizabeth and Queen Mary 2 when he and Priscilla would visit London for a few weeks of theater and music.

He took special pride in his marriage, and he and Priscilla enjoyed entertaining friends and family both in Philadelphia and Vermont. Together their generosity was considerable, and they mentored several Philadelphia families who were recent arrivals to the United States from China and Vietnam. His philanthropy extended to the Philadelphia Orchestra, Island Arts of North Hero, Vt., the North Hero Historical Society, Shelburne Museum and the Preservation Trust of Vermont.

As anyone who knew him will attest, Bob was modest and self-effacing. He also had a sense of adventure. In his youth, he and a group of friends traveled from North Hero down Lake Champlain, the Champlain Canal and the Hudson River to New York City and back, camping along the way. On another occasion, he canoed down the Colorado River, through the Grand Canyon and, as he recalled later, by the time he returned, his brown hair was bleached blond by the sun.

He is survived by his sister, Anne Doucet, of Jaffrey, N.H., and numerous cousins and close friends.

His family would like to express particular gratitude to his cousin June Vouriotis, who oversaw his care in recent months, and to Hollis McElwain, his cousin by marriage, who provided companionship in Vermont. They would also like to thank the staff at the Barclay in Rittenhouse Square in Philadelphia, who provided care and kindness throughout his many years there and particularly during the last months of his life.

A gathering of friends and family will be held in North Hero this summer.