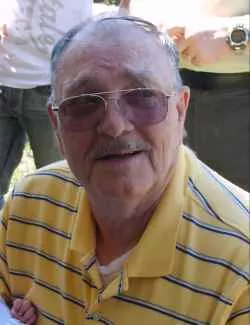 Plattsburgh, NY - Robert Earl Walker Sr., 81, beloved husband, father and friend, closed his eyes to this world, and ran into the arms of the Lord on June 2, 2016 at CVPH Medical Center in Plattsburgh, NY after a long battle with Leukemia.
He was born on September 17 1934, in Shawneetown, Illinois to Lee Roy and Margaret Walker. Bob grew up in Shawneetown, IL and graduated from Shawneetown High School in 1952. After high school he joined the Air Force and served during the Korean War. After active duty, he joined the Vermont Air National Guard and retired as a Senior Master Sergeant.
Bob married Dorothy Heron in 1956 in Burlington, VT. They were married for 59 years and had 5 children together. He was a member of the Veterans of Foreign Wars.
Bob is survived by his wife, Dorothy of Burlington, VT; their children, Robert Jr of Milton, VT, Kim Brown of Alburg, VT, Michael of Burlington, VT, Jamie of Woodbridge, VA and Steven of Colchester, VT; his sisters, Rita Williams, Peggy Jennings, Betty Oakes, and brother, Ricky Walker; his grandchildren Shawna, Michael Jr, Robert, Steven, Seth, Shane, Kendra, Benjamin, Kyle, Kyra and Jenna; his companion, Barbara Arno, as well as many loving great-grandchildren, nieces and nephews and other relatives.
Bob was preceded in death by his parents, Lee Roy and Margaret Walker, and his step-mother, Jewell Walker.
A Mass of Christian Burial will be held at Holy Angels Church at 246 Lake Street, St Albans, VT at 11:00 am on Friday, June 10th, 2016.
A visitation will be held at Heald Funeral Home, 87 S. Main Street, St Albans, VT from 5:00 – 8:00 pm on Thursday, June 9th.
Condolences may be left on the online guest book at www.healdfuneralhome.com.
"Has this world been so kind to you that you should leave with regret? There are better things ahead than any we leave behind." ~ C.S. Lewis