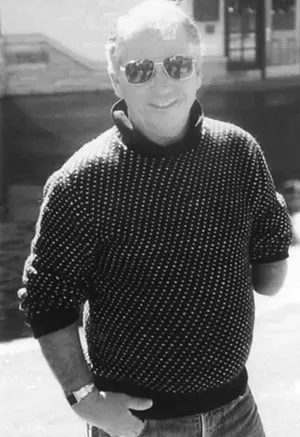 Bobby Miller — community leader, philanthropist, businessman, devoted husband and family man — died Tuesday, February 4, 2020, at the University of Vermont Medical Center surrounded by his family. He was 84 years old. Born in Rutland, Vt., on August 9, 1935, he was the third of six children born to Ruth and Charles Miller.
Born an entrepreneur, Bobby helped support his family through a variety of enterprises. He was always fascinated with construction. At the age of 6, he would hang around local sites where he worked his way up the ladder, first picking up dropped nails, soon being allowed to ride to the lumber store with the boss and eventually guarding the wet cement to make sure kids didn't ride their bikes through it. His lifelong love of cars also started early. One of his favorite teachers, Mrs. Hart, introduced Bobby to her husband, who had an auto body shop. His first repair was his little red wagon that he used on construction sites. Bobby had that irresistible spark that drew people to him.
The hard life continued for the Miller family, with his mother working three jobs and his father having difficulty finding work. His maternal grandparents, Blanche and Edmund Elkey, were a strong and loving presence in his life, and he moved in with them for his high school years. He also developed an extremely close bond with his Aunt Pat and would remain close and devoted to her throughout her life, until her death in 2009.
During high school, he was drawn to the industrial arts, including classes in auto mechanics and mechanical drawing, at which he excelled. These would serve him well in his future work in both heating and ventilating, as well as real estate development.
Bobby's early work ethic and resourcefulness brought him income in those teen years. Renting a garage with a half-pit, he worked on cars in the evening, returning them to the owner by morning on his way to school.
After high school, he worked for the Howe Scale Company as a timekeeper. He knew that a company with 400 employees would be to his benefit. Employees became his customers! He would work on their cars at night and, in the fall, would come to work with his car full of containers of antifreeze and boxes of thermometers. On his lunch hour, he could prepare five cars for winter driving, charging each $25. Resourcefulness was Bobby's middle name!
Bobby's introduction to the engineering field in 1956 began with a firm in Hartford, Conn. Wishing to return to Vermont after three years, and with no jobs available in the Rutland area, he was hired in 1959 by Jennison Engineering in Burlington. This was the beginning of his long and fulfilling business career in this community. He subsequently was associated with Freeman, French and Freeman; Vermont Heating and Ventilating; and New England Air Systems, which he founded. When his skills and familiarity with all aspects of the industry — including drawing plans, understanding all ordinances, designing plumbing, heating and electrical — all came together, he created REM Development in 1984. This business, which has only four employees, values a handshake over a contract and is committed to delivering quality work on time. REM has become a leader in the real estate industry.
Bobby's integrity, vision and determination shaped REM's work. Bobby was well known to say he never worked a day in his life; for him, work was his hobby. His day started at 5:45 a.m. with his Mercedes parked in front of the local coffee shop, waiting for it to open and for his coffee buddies to appear. He loved touring around in his signature red Mercedes convertible to visit his properties and talk with contractors and just about anyone whose path he crossed. His one guilty pleasure was his nickel-and-dime Monday lunch-hour cribbage game with lifelong buddies!
Bobby's deepest values were about honesty, trusted relationships, giving back and love of family. With his marriage to Holly in 1986, family became their most prized possession. The many times spent with family, both at home and in travel, are among their most cherished memories. Friendships that have endured over their many years together, especially those with friends from their earliest days in Rutland, are held with great care and regard.
Bobby believed in giving back "in time, in talent and in treasure." That was reflected in myriad aspects of his life. The most obvious are the countless ways he contributed to community, both in personal gifting and the numerous in-kind construction projects he completed. Sharing his success through philanthropy was very important to both Bob and Holly. Bobby had a personal relationship with his employees, showing appreciation for them and giving back to them on a regular basis. He was a wise, sought-out mentor for younger individuals in his industry. He served on many boards supporting excellence in education at all levels, the arts, the well-being of children and quality in health care.
Bobby believed he was sent here to do a job. He and Holly, who considered him her Buddha, had an exceptional life together, and he extended the outreach of his good fortune toward making life comfortable and better for others. His generosity appeared boundless. His legacy will be enduring. And the twinkle in his eye, for those who love him, will remain forever.
Bobby is survived by the love of his life for 35 years, Holly; his children Tim Miller (Wendy), Stephanie Taylor (Mitch) and Erika Montgomery; his grandchildren Sarah Owen (Jason), Katie Gabree (Jeremy), Aaron Plunkett, Thomas Reiskin, Olivia Reiskin, Darian Montgomery, Austin Taylor and Carson Taylor; and one great-grandchild, Eloise Owen. He was also an integral part of Holly's immediate family and is survived by Holly's siblings, nieces and nephews, Dee Brightstar and her children Wendy and Peter Martin; Denny (Eileen) Dudley and their children Devon and Matt; and Tim (Mary Beth) Dudley and their children Ian, Jahala and Jessica.
Visiting hours will be held Tuesday, February 11, from 3 to 6 p.m. at the Robert E. Miller Expo Center in Essex Junction. A celebration of life will follow on Wednesday, February 12, at 11 a.m., also at the Expo Center. Burial will be held privately in the spring.
In lieu of flowers, please make donations in Bobby's memory to your favorite charity that supports families, children or end-of-life care.