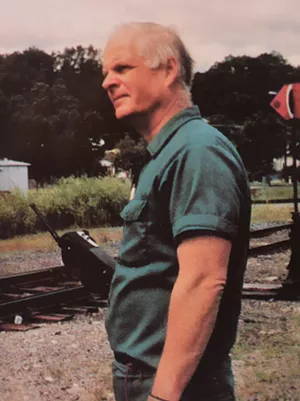 Courtesy Photo
Robert C. Jones
Robert Cecil "Bob" Jones, 86, of Burlington, Vt., passed away at home of natural causes on January 13, 2021.
Often considered the dean of northern New England railroad history, Bob, a graduate of the University of Vermont and Saint Michael's College, authored, coauthored or edited 24 railroad books. They included the three-volume, award-winning Railroads of Vermont; the seven-volume The Central Vermont: A Yankee Tradition, Two Feet Between the Rails; and many other books and magazine articles on Maine and Vermont railroad subjects.
Bob's infectious love of the rails created a ripple effect in the lives of so many. His wife, Janet, worked in passenger service on the Green Mountain and Vermont Railway. Son Jim continues in the family tradition, having produced more than 40 rail-themed video documentaries and five books of his own. Son Marc worked in four departments on the Central Vermont Railway. Happily, Bob lived to see and hear the contemporary rail tales of his grandson, William, of New England Central Railroad.
Bob often reiterated the story of his father Cecil's own post-high school graduation job search. Cecil had interviews with a local bank and the railroad. Bob was fond of saying: "Had the bank hired him, I might be speaking to a convention of bankers."
It is fair to say the Jones family has been railroaded for more than a century — and counting.
Although his family mercilessly teased Bob about being born at Cottage Hospital in Woodsville, N.H., his very first home address of East Ryegate made Bob a proud native Vermonter. In East Ryegate, Bob's father, Cecil, served as depot agent. The Canadian Pacific Railroad transferred the family to the busy, international border station of Richford, Vt., at the dawn of World War II. Here in Richford, young Bobby Jones grew into adulthood, along with younger brother Bill, under the watchful eyes of Cecil and Elsie (Pangborn) Jones and several beloved canine companions.
Bob leaves pieces of his heart in Richford; the Eastern Townships of Québec; Franklin County, Maine; Colorado; and Burlington's South End, where together Janet and Bob raised three boys.
Priding himself on being well-rounded, with far from a one-track mind, Bob was a high school business education teacher at Shelburne and Champlain Valley Union for 32 years, while simultaneously pursuing railroad work over a 41-year period on the Canadian Pacific, Vermont Railway, Green Mountain Railroad and the New England Central Railroad — all on an average of four hours of sleep a night.
In addition to his parents, Bob was predeceased by his youngest son, Steven T. Jones, 16, in 1983.
Bob leaves 65 years of wonderful memories with his loving wife and best friend, Janet (Bailey) Jones, whom Bob met through a mutual acquaintance in 1955. Bob is also survived by son James R. "Jim" Jones and daughter-in-law Marilee (Chiarella) Jones, and son Marc and daughter-in-law Carol Ann (Stebbins) Jones. Bob was especially proud of grandchildren Mary (David) Ritchie, William Jones, Chiara M. Evans and Samuel R. Evans, not only for their accomplishments, but for the fine, upstanding young adults they have become. Bob is also survived by his brother, William, and sister-in-law, Grace; five great-grandchildren; many nieces and nephews; fellow Faith United Methodist Church members; legions of rail enthusiasts; and former students. The family wishes to thank all of the amazing caregivers, nurses and doctor who provided top-notch in-home care for the past two years.
Bob was many things: devoted husband and father, respected author, talented baseball player (and devoted Red Sox fan), army veteran, bagpipe band drummer, teacher, man of faith, mentor and friend. Bob left the world a better place. For that, he will be truly missed. We are fortunate to have known and loved him.
The pages have turned to the next chapter in Bob's long, rewarding life. Bob is now gracing Heaven with his dry humor and thoughtful counsel. We will remember him at the sound of every locomotive whistle, with the taste of blackberry pie, and the sight of a handsome guy wearing a plaid shirt — and a smile.
A celebration of life gathering will be held at a later date.