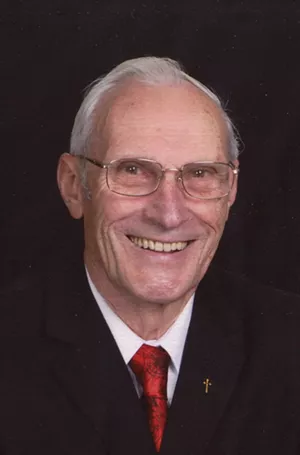 Robert A. Renaudette, age 82 years, died Wednesday evening, September 30, 2015, at his Charles St. residence with loving family at his side.
Born in Fairfield on, June 6, 1933, he was the son of the late Raymond and Loretta (Raymond) Renaudette. He attended St. Anne's Academy and in 1956, was married to the former Sandra Favero who survives him. He faithfully served his country in the United States Navy during the Korean Era and was a member of the American Legion, Green Mountain Post #1 of St. Albans and the Veterans of Foreign Wars, Charles DaPrato Post #778 in Swanton.
Bob was associated for 34 years with the Central Vermont Railroad retiring as a foreman. He later went to work for his brother-in-law, At Drummac Septic Service in Highgate Center and retired in 2013. He also drove school bus for Don G. Bell, Inc., and Terricel Transit and was a 14 year volunteer for Missisquoi Valley Rescue.
As an active and devoted member of Nativity / St. Louis Parish he volunteered in many ways including as an Altar Server, setting up for countless funeral and church dinners and assisting with the Nativity Church Christmas and Easter holiday decorations. He was also a very active member of the Knights of Columbus, St. Edmund of Canterbury Council #7669 and Fourth Degree Assembly #2207.
In addition to his wife Sandra of nearly 60 years, Bob leaves three daughters and their husbands, Tina and Jerry Iervolino of E. Hanover, NJ, Tracy and Don Bruyette of Morgantown, W. Virginia and Linda and Craig Vandevord of St. Albans; a sister, Betty Renaudette of Swanton; a brother Leo and his wife Nancy Renaudette of Canaan; grandchildren, Tony and Lauren Iervolino, Sara Fournier, Hilary and Cody Meunier and Jessica and Shelby Vandevord; brothers and sisters-in-law, Lanny and Estelle Favero, Elizabeth Jean, Julie and Dick Brier, Trudi and Cleo Yandow and Gail and Doug Medor; three special Godchildren, Lanny Jean, Penny Collins and Jeff Medor as well as many nieces and nephews.
Besides his parents Bob was predeceased by a brother, Donald Renaudette and brother-in-law, John Jean.
The Liturgy of Christian Burial will be celebrated Monday, October 5, 2015, at 11 a.m. from The Church of the Nativity of the Blessed Virgin Mary, 65 Canada St., Swanton. Father Thomas D. Nadeau will be the celebrant and homilist. The Rite of Committal with military honors will follow at the Renaudette family lot in St. Mary's Roman Catholic Cemetery.
Friends may call at The Kidder Memorial Home, 89 Grand Ave., Swanton on Sunday from 2 to 6 p.m.
Gifts in Bob's memory may be made to Missisquoi Valley Rescue, P.O. Box 22, Swanton 05488.
To offer private online condolences please visit: www.kiddermemorialhome.com