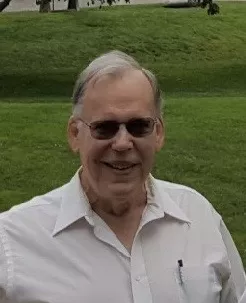 Courtesy Photo
Terry Jeroloman
Richard Terence Jeroloman, JD, 76, of Burlington, Vt., died on July 27, 2020. Mr. Jeroloman, whose friends called him Terry, was born March 11, 1944, and grew up in South Nyack, N.Y. He earned a degree in electrical engineering (BSEE) from Northeastern University in 1968 and worked primarily as a computer engineer for about 15 years. He was employed by a number of companies, including RCA, Berkey Photo, Bell Labs and Westinghouse. He attended night school at Fordham University School of Law, receiving his JD degree in 1985 and being admitted to the New York bar in 1986. Terry worked as an intellectual property lawyer in New York City and Albany, NY. Terry was a confirmed Episcopalian and, in the late '80s was on the vestry at Eglise du Saint Esprit in New York City. In his free time, Terry was a political traveler and traveled in 30 countries and studied international law in 6 European countries. He became fluent in French studying at the Sorbonne in Paris and developed his third language studying Swedish at Folkuniversitetet in Stockholm, Sweden.
Retiring from law in 2004, he moved to Burlington, Vt., where he completed an MBA degree at the University of Vermont in 2012. In Vermont, Terry produced a public access TV show called "Vermont Today" at VCAM for about 10 years. He was twice a candidate for the state Senate, once as a Progressive and once as an independent. Terry believed very strongly in democracy and getting the money out of politics, establishing a single-payer health care system, and decriminalizing drugs.
He also served as one of five judges on the city Housing Board of Appeals for five years. Terry was a member of the Champlain Kayak Club, and he was a downhill skier. In Burlington, he attended the Cathedral Church of St. Paul. Terry is buried in the family plot at Kensico Cemetery in Valhalla, N.Y.
Arrangements are by Boucher & Pritchard Funeral Directors.