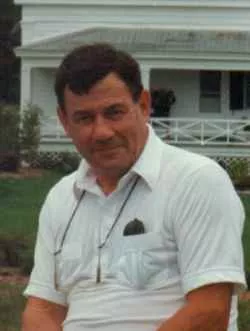 Richard R. "Dick" Rushford
Richard Rushford a lifelong resident of this community passed away early Friday, September 23, 2016, at the Northwestern Medical Center.
Richard was born December 4, 1934, in Enosburg, the son of Raymond Rushford and Nettie (Bryce) Rushford. He was 81 years old.
He attended Enosburg Schools and graduated from Enosburg Falls High School in 1952. Richard then served in the U.S. Air Force from 1954-1958, during the Korean Conflict as a navigation specialist. Upon his discharge from the military, he attended Johnson State College, graduating in 1962 with a B.S. in Education. He went on to teach math and science in Waterbury High School, Fairfield Central School, and Richford High School retiring in 1992 following a 30 year teaching career.
Richard maintained contact with his students around the world. He was interested in their lives, friendship and well-being for the rest of his life.
He was a life member of D.A.V. and a longtime member of American Legion Post #42 and the Vermont Retired Teachers Association. Dick's hobbies were aircraft, cross country skiing, bird watching, wood working and his home and autos. He enjoyed many happy hours with his daughter, Jamie Allison who he also considered his best friend. He enjoyed life with people from all walks of life; to them he would like to extend a special thanks for their understanding, love and long-term affection and especially honesty. In a sometimes difficult world, we all need these exceptional individuals to share our lives.
Richard never considered social status in friendships, whether in the family of professionals or the personal relationships he shared with others. By all records his life was full and happy.
Survivors include his daughter, Jamie Rushford, of Enosburg Falls; his sister, Bernice Rushford Aber and her husband, Marvin, of Montpelier; his nephew, Jeffrey Aber and his wife, Erin, of Brentwood, Tennessee and his niece, Judy Aber Buchanan and her husband, Ian, and their daughter, Elena, all of Waitsfield, Vermont.
In addition to his parents, Richard was predeceased by his sister, Agnes Rushford.
A graveside funeral service with military honors will be held on Thursday, September 29, 2016, at 1:00 PM at his lot in Sheldon Village Cemetery, Sheldon Woods Road, Sheldon, Vermont. Pastor John Bly will officiate. At his request there will be no calling hours.
In lieu of flowers, memorials may be made to the Franklin County Animal Rescue, 30 Sunset Meadow, St. Albans, Vermont 05478.
Assisting Richard's family is the Heald Funeral Home of St. Albans. To send his family a written expression of sympathy, please visit our online guest book at www.healdfuneralhome.com.