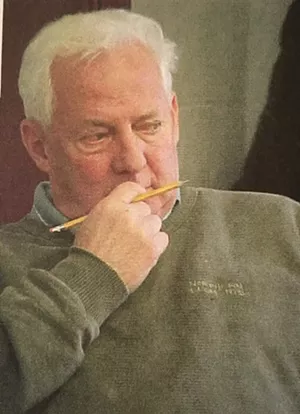 Richard Lumbra passed away on October 19, 2019, at his home in Hyde Park, Vt., after living with Parkinson's disease.
Richard was born at home in Richford, Vt., on November 11, 1935, to Roger and Hildred (Whitehead) Lumbra. In 1953, he graduated from Richford High School, where he was an excellent basketball and baseball player. He served three years in the U.S. Army, from 1953 to 1957; he then entered Johnson State College and graduated with a bachelor's degree in education in 1961.
He was hired to teach in Jericho, Vt., where he served from 1961 to 1995, including 25 years as the Jericho Elementary School principal. Richard was an active member of the Jericho community as a referee, umpire, commissioner of Pleasant View Cemetery, lister and, for a stint, town clerk. Dick worked hard through the years, helping out with farm chores in his youth through to his many years as the superintendent of the 4-H Youth Cattle Barn at the Champlain Valley Fair. He was a mentor and friend to so many young people throughout his life.
Richard is survived by his wife of 59 years, Jean (Carpenter); his daughter Michele Boomhower, her husband, Greg, and their partner Ginger (Hitchcock) McDowell; his son Jeffrey; and, the apple of his eye, his granddaughter Aleda Boomhower. Richard also leaves his sisters, Virginia Dulude of Enosburg Falls, Vt., and Penny Terkanian of Biloxi, Miss. He was predeceased by his brothers, Roger and Ronald Lumbra. Richard was fondly loved by his sisters and brothers-in-law Shirley and John Therrien, and Bonnie and Dan Nash — as well as numerous nieces and nephews and their children.
A private graveside service will be held at the Pleasant View Cemetery in Jericho. In lieu of flowers, contributions may be made to Lamoille Home Health and Hospice, 54 Farr Ave., Morrisville, VT 05661. The family also invites you to share your memories and condolences by visiting awrfh.com.