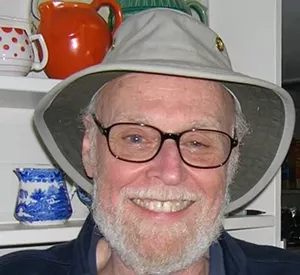 Courtesy
Dick Jenney
Richard H. Jenney, 95, of Calais, Vt., died January 8, 2023, at Central Vermont Medical Center after a brief illness. He was surrounded at his bedside by loving family members: his wife, Judy; daughter, Karen; his brother, Peter, and his wife, Michelle; and niece Becky.
Born in Cambridge, Mass., on July 24, 1927, Dick was the son of Clementina Hartshorne and Richard Jenney, whose career as an engineer brought him to Argentina, where Dick received his early education. Upon returning to the United States, Dick's family settled in Haverford, Pa., and Dick was educated at the Haverford Prep School.
He is a veteran of WWII, having served in the U.S. Navy in the Philippines, and after the war, he was educated at Swarthmore College. He continued his education at the University of Chicago and received a PhD in psychology at Fielding Graduate University in Santa Barbara, Calif.
Much of his career centered in academia, initially as a psychologist at California School of the Arts in Valencia, Calif., where he later became dean of students. His love of the arts made him well-suited to serve students, faculty and staff.
Upon retirement, Dick and Judy relocated to Vermont when Judy joined the faculty of Goddard College in Plainfield, Vt. They bought a house in Calais and quickly developed a love for their new surroundings and formed many close friendships with neighbors. Dick put his psychological training to good use as a member of the Vermont Reparative Justice Board, a role that he considered some of his most meaningful work.
Dick was a key member of the Green Mountain Film Festival, started by Rick Winston and Andrea Serota, and as operations manager, Dick made insightful suggestions for the screening committee about how to improve the festival each year. Rick Winston saw Dick's participation "as a continuation of his heartfelt feeling of community in his post-retirement years. He loved participating in our post-GMFF dinners and retreats that took place not only in Montpelier but Lake Placid and Montréal."
As an active member of the Unitarian Church of Montpelier, Dick was one of the founding members of the Montpelier area "Seasoned Souls," a discussion group initiated by the Reverend Joan Javier-Duval that was modeled on a similar group out of Augusta, Maine. Oriented around spiritual and spirited discussions about aging, the group drew great interest from church members, attracting 30 people to their initial meeting (so that they broke into three smaller groups) and expanding to five groups that continue to meet. This social and spiritual support network was critical in carrying Dick, his wife, Judy Harden, and others through the isolation of the pandemic and brought laughter to Dick's hospital room in his final days.
Dick's warmth, his wit and engaging conversation brought him many sustaining friendships in his neighborhood and throughout the larger community. He was especially proud of his role as "Mr. August" in the Men of Maple Corner calendar, which received nationwide TV coverage in September 2001, when it was published to raise funds for the Calais Community Center.
Dick is survived by his loving wife, Judy Harden; his daughter, Karen Jenney Gaukel, of Carlsbad, Calif.; sons David Jenney of Vassalboro, Maine, and Thomas Jenney and his wife, Helen, of Poway, Calif.; brother, Peter Borie Jenney, and wife, Michelle, of Boston; sister, Betsy Jenney Basch, and husband, Martin, of Gloucester, Mass.; niece, Becky Basch, of Williamsburg, Mass.; grandson, Nicholas Jenney; granddaughter, Allison Jenney, and husband, Garrett Galstaun, and great grandson, Wyatt, of Orange, Calif.; stepson, Kris Knowles, of Lawrence, Kan.; and several other nieces and nephews. Dick is predeceased by his former wife Jose, the mother of his children.
Dick was interred in a small, green burial ceremony at the Robinson Cemetery in Calais on January 10. A celebration of life will be scheduled for distant family and the larger community at a later date.