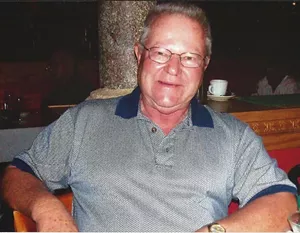 Richard A. Lafreniere of Seminole, Florida, died on Sunday, June 26, 2016 at the age of 82. Born in East Barre, Vermont on May 22, 1934, he was the son of Henry J. and Eva B. (Mason) Lafreniere. Richard (aka Dick, to many) attended school in East Barre and was a member of Spaulding High School's Class of 1953. He graduated from the University of Vermont in 1957 with a Bachelor of Science in Education. Richard worked in Vermont high schools all of his professional life; first as a Social Studies teacher at South Royalton High School and at Braintree-Randolph Union High School in Randolph. After receiving his Master's Degree in Guidance, he worked as Guidance Director at Harwood Union High School in Moretown, following which he moved to Champlain Valley Union High School in Hinesburg. He retired from CVU in 1990.
Richard served in the Vermont Air National Guard from 1958 to 1966, and was commissioned as an officer in 1960.
Immediately upon retirement in 1990, Richard moved to Seminole, Florida. Golf, traveling and socializing with his family, extended family and many friends were his favorite pastimes.
Richard is survived by his foster son, Donald Burke, his wife Lori and their daughter, Jessica of Pinellas Park, FL; his sister-in-law, Lois Lafreniere of East Barre; his niece Lori (Lafreniere) Jean and her husband Paul of Seneca, SC; their son Nicholas Jean of Essex Jct., and daughter Brittany Jean of Hilton Head, SC, as well as several members of the extended Lafreniere and Mason families. He was predeceased by his parents, Henry and Eva; his brother Roland; his niece Leanne Sue and two nephews.
At Dick's request, there will be no services or visiting hours. His ashes will be interred at St. Sylvester's Cemetery in Westerville, Vermont at the convenience of his family.
Gifts in Dick's memory may be made to Central Vermont Home Health & Hospice, 600 Granger Road, Barre, VT 05641 or Hospice Foundation of Florida Suncoast, 5771 Roosevelt Blvd, Clearwater, FL 33760.