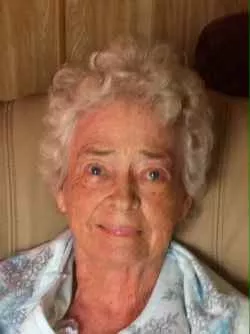 Renee D. Bachand, passed away on Saturday, April 30, 2016, at her home in Lake Wales with her family at her side.
Born in St. Albans, on March 11, 1935, she was a daughter of the late Rodolphe and Shirley (Leavens) Vallee. Renee was 81 years old.
On September 12, 1955, in St. Mary's Church, she married Ronald Leonard Bachand, who survives her.
She attended St. Mary's Grammar School and graduated from B.F.A. – St. Albans, class of 1953. Renee was first employed in her families' business at R. L. Vallee, Inc., by her father. In later years, she was employed 18 years at Peoples Trust Company until her retirement in 1987, at which time she became a part-time associate at the Franklin-Lamoille Bank.
Renee was a member of St. Mary's Parish and Court St. Mary 468, Catholic Daughters of the Americas. She also served as a Eucharistic Minister at St. Mary's Parish for a number of years. She was an avid reader and enjoyed sewing, knitting, camping and fishing.
Renee leaves her husband of 60 years, Ronald L. Bachand of Lake Wales; two sons, Kenneth James Bachand of Swanton and Andrew Mark Bachand and his wife, Kristen, of St. Albans, three daughters, Lynn Marie Bosley and her husband, Kenneth, of Essex Jct., Laurie Ann Boardman of So. Burlington and Joanne Michelle Hoekstra and her husband, George, of Taunton, MA; eight grandchildren, Kimberlie Hurley and her husband, Jason, of Stoughton, MA, Christopher Hoekstra of Norton, MA, Joseph Bosley and his wife, Hera, of Essex Jct., Laura Bosley and her fiancé, Benjamin Perez, of St. Albans, Philip Bosley of So. Burlington, Nathan Bachand and his fiancé, Kaeley McGovern, of St. Albans, Jessica Bachand of St. Albans and Marlo Sharp and her husband, Tripper, of Acworth, GA; eight great grandchildren, Madison Bosley, Evan Bosley, Kaitlyn Hurley, Camryn Hurley, Cameron Becton , Barrett Sharp, Parker Sharp, and Mackenzie Perez.
She is also survived by her brother, Rodolphe J. Vallee and his wife, Elizabeth, of Georgia; two sisters, Jan Tessier and her husband, John, of Swanton and Paula Fahl and her husband, David, of Dade City, FL as well as many nieces, nephews and cousins.
Relatives and friends are invited to attend calling hours on Sunday, May 15, 2016, from 4:00 to 7:00 P.M.at the Heald Funeral Home, 87 South Main St., St. Albans.
A Mass of Christian Burial will be celebrated Monday, May 16th at 11:00 A.M. in Holy Angels Catholic Church, 245 Lake Street, St. Albans. Interment will follow in Mount Calvary Cemetery.
Memorials may be made to Good Shephard Hospice, 105 Arneson Avenue, Auburndale, FL 33823 in her memory. Condolence messages to the Bachand family are welcome at www.healdfuneralhome.com