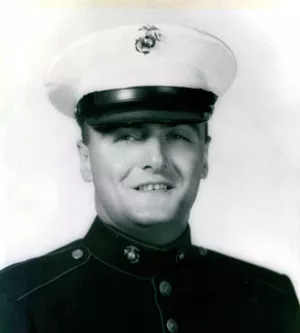 Mr. Reginald F. Allard, Sr., died suddenly on July 4, 2016. He was 87 years old. Reg was born in Elmore, VT son of the late Joseph and Angelina (Parizo) Allard. He served his country in the U.S. Marine Corp during the Korean War. He returned to Vermont and worked for the Coca-Cola Company as a salesman. For over 50 years, Reg owned and operated his own dairy farm in St. Albans Bay.
Reginald is survived by his three children, Darlene Allard Forington of St. Petersburg, FL, Reginald Allard, Jr., and his wife Mary of Southington, CT and Gregory Allard and his wife Patty of Swanton, his partner Beverly Fairbanks of over 40 years, and her children Michael Fairbanks, Steve Fairbanks, Brenda Ladue, Lori Fairbanks, Melissa Kimball, 7 grandchildren, 5 great-grandchildren and 3 great-great-grandchildren. Besides his parents he was predeceased by his wife Elizabeth Rule Allard, his former wife Emma Harkins Allard, his brother John Allard, and sisters Florence Kuehn, Yvonne Audette and Lucille Greenough.
A graveside service with full military honors will be held Saturday, July 9, 2016 at 10:00 AM in the St. Francis Xavier Cemetery in Winooski. There will be no calling hours. Memorials may be made to the Disabled American Veterans, PO Box 828, White River, VT 05001. Online condolences may be sent to his family at the Brady & Levesque website: www.bradyandlevesque.com. Arrangements are entrusted to the Brady & Levesque Funeral Home and Commemorative Services.