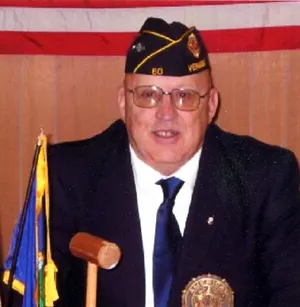 Ray Ira Bohannon, age 72 years, a lifelong resident of Alburgh died Wednesday evening, October 21, 2015, at his Greenwoods Road residence with many loving family members at his side.
Born in Alburgh on, August 26, 1943, he was the son of the late Donald and Mae (Westover) Bohannon. He attended Alburgh Schools and on July 22, 1995, was married to the former Shirley Duchaine who survives him. He was involved in farming for most of his working life.
Ray faithfully served his country in the United States Army during the Viet Nam Era. He has been a longtime active member of the American Legion, Creller-Landon Post #60 of Alburgh. Since 2011 he has served as Legion Commander recently retiring because of ill health. He also served from 2012 – 2014 as Legion Commander of Franklin County.
Active in the Alburgh community he was a member of the Alburgh Volunteer Fire Department, served on the Alburgh Springs Community Restoration Committee and coached Little League Baseball.
Besides his wife Shirley of Alburgh Springs, Ray leaves six children, Sharri and Bret Wallace of Missouri, Donald and Mary Bohannon of Alburgh Springs and Ray Jr., and Tobie Bohannon of Missouri, Michael Palmer, Susan Palmer and companion Phil Potvin and Carrie and Michael Greenwood; two sisters, Bernice and Ernest Hutchins and Nellie Lockerby of Alburgh; brothers-in-law and sisters-in-law, Danny and Wanda Duchaine, Bonnie and Joe Cicia, Tammy and Ross Poquette and Pete Esposito all of Alburgh; 16 grandchildren; 8 great grandchildren; several aunts, uncles, nieces, nephews and cousins.
In addition to his parents Ray was predeceased by a son, James Palmer and two brothers, Harvey and Wayne Bohannon and a sister-in-law, Laura Esposito
A Funeral Service will be held Monday, October 26, 2015 at 1:30 p.m. from The Kidder Memorial Home, 89 Grand Ave., Swanton. The Reverend Mr. Duane Langlois will officiate.
Friends may call at the funeral home on Monday from 10:30 a.m. until the hour of the funeral.
Gifts in Ray's memory may be made to the Alburgh Springs Community Hall Project, in care of, Susan Cameron, 20 Cameron Dr., Alburgh 05440 or to the American Legion, Creller-Landon Post 60, 35 N. Main St., Alburgh 05440.
To offer private online condolences please visit: www.kiddermemorialhome.com